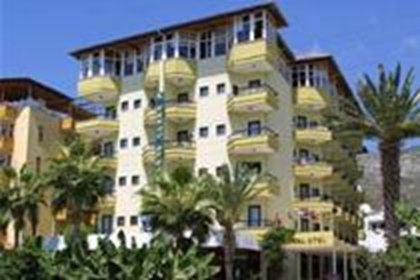 Hotel Overview
The Kleopatra Gural Hotel is in the centre of Alanya, 50 metres from the beach. The hotel has 72 guestrooms that are equipped with air conditioning, satellite television and a balcony or terrace. This Alanya hotel has its own pool with a shallow area for children, a restaurant and poolside bar and a TV room. There are plenty of water sports to enjoy nearby including a diving school.

Surrounding the Hotel Kleopatra Gural, visitors will find plenty of fish restaurants, cafes and bars especially round the popular harbour area. This is also a historic town and the headland is crowned by a 13th century fortress whose walls hold the ruins of mosques and a cistern, a Byzantine church, a caravanserai and a covered bazaar.

##Accomodation
All have - bathroom/shower – WC - satellite TV - air conditioning - telephone - hairdryer – balcony/terrace - (certain amenities may be payable locally)

##Eating and Drinking
The Kleopatra Gural has a restaurant, a pool bar and a snack bar.

##Swimming Pools
There is an outdoor swimming pool with a section for children.