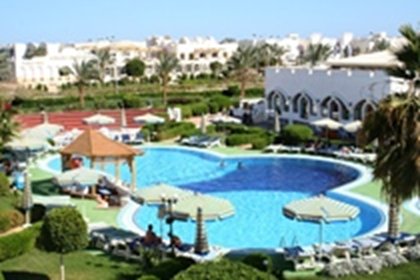 Hotel Overview
The Karma Hotel, Sharm El Sheikh, is a 3-star property situated by the Ras Om El-Sid cliff - just five minutes away from the town centre and close to the beach. Also Naama Bay with its long sandy beach is a short 15-minute drive and offers many activities and amenities such as: windsurfing, parasailing, jet skiing, scuba diving, boat trips and excursions. The Karma Hotel is also situated within easy reach of a wonderful mix of bars, restaurants, cafés, shops and exclusive boutiques.

The hotel offers an array of single, double, twin and triple rooms featuring TV with satellite channels, balcony/terrace and private bathrooms. The property also has a number of facilities for one's leisure and entertainment such as: a swimming pool, children's pool, diving centre, restaurant, snack/pool bar, lobby bar, as well as a high-class service provided by its well-trained and expert staff. Other facilities available in the hotel include a 24-hour reception, safety deposit box at the reception, money exchange, public Internet (surcharge), laundry service and a car park.

*Certain amenities may be payee locally*

*Official star rating: 3**

##Location
The Karma Hotel, Sharm El Sheikh, is perfectly situated for a beach holiday in Egypt. Nestled in the serene environment of Om El Sid and in close proximity to the beach and Red Sea Coast, Karma Hotel is ideal for relaxing and enjoying the sun. With plenty of entertainment facilities nearby, the hotel is also an ideal base for family holidays.

Also Naama Bay Beach, situated approximately five miles from the hotel is ideal for water sports – both for the experts and the ones who just want to try something new. Facilities include jet skiing, scuba diving, parasailing and windsurfing. Naama Bay offers an extensive selection of bars, restaurants, cafes and shops as well.

##Accomodation
The hotel offers a selection of rooms to suit all travellers and their requirements during their holiday. Guestrooms are inclusive of: individually controlled air-condition, TV with satellite channels, mini bar, safety deposit box and balcony/terrace. Private bathrooms come with shower and hairdryer. The rooms enjoy either a pool, mountain or sea view. Room service is also provided but it is not part of the all-inclusive package.

##Eating and Drinking
The guest can enjoy mouth-watering dishes in the hotel's main restaurant and a variety of snacks and nibbles, as well as alcoholic and non-alcoholic beverages, soft drinks and juices in the poolside bar lobby bars.

**ALL-INCLUSIVE**

Buffet breakfasts: from 07:00 until 10:00, a
Buffet lunch: from 13 until 15:00 (based on snacks, pasta, salads and desserts,
Buffet dinner: from 19:00 until 21:00.
Drinks are served from 10:00 until 22:00 and based on local beer, local alcohol, soft drinks, tea and coffee.

Beverages are served in the following areas:

Blue Bar: from 10:00 until 13:00 and from 15:00 until 22:00.
Self-service from bar counter.
Lobby Bar: from 22:00 until 02.00.
Lobby bar & Blue bar are open for sales.

Drinks are served by glasses in all areas.
Any consumption based on full bottles will be paid extra.
Room service is not included in the all-inclusive concept.
Christmas & New Year gala dinners exclude any beverages.
Mini bar service is not included in this package.
Fresh juices & ice cream are not included in the all-inclusive package.
All-inclusive is only served in the hotel and not on the beach.
All-Inclusive package is valid until 12:00 noon at the day of departure.
All-Inclusive is available for those with the all-inclusive meal plan only and not it is not allowed to invite anyone else.

##Swimming Pools
The Karma Hotel has two outdoor swimming pools next to the main building, one for children and the other one for adults. The pools are surrounded by beautiful green walkways with sunbeds, loungers and parasols. There is also a bar located by the pool where one can enjoy refreshing drinks and delicious creative cocktails.