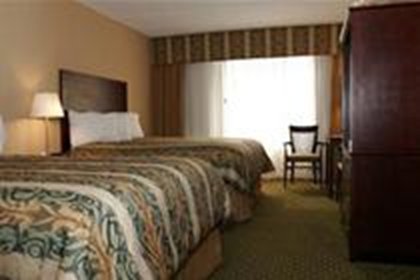 Hotel Overview
The Howard Johnson Plaza Hotel is situated in downtown Tampa on the banks of the Hillsborough River. The Tampa Bay Performing Arts Centre is next to the Plaza Hotel and it is just a couple of blocks to the Tampa Bay Convention Centre, the Tampa Downtown Business District, and the St. Pete Times Forum.

Also nearby you will find Ybor City, the Florida Aquarium, the Tampa Port/Cruise Terminal and the Channelside Entertainment Complex. Complimentary transportation is available to and from Ybor City, the Florida Aquarium, the Tampa Port/Cruise Terminal, Channelside Entertainment Complex, University of Tampa, Tampa General Hospital, St Pete Times Forum, the Tampa Convention Centre and many other local businesses and attractions within a two mile radius.

Great views of downtown Tampa and the scenic Hillsborough River come free at the Howard Johnson Plaza and each of the recently renovated guestrooms have either a plush, comfortable pillow-top King-sized bed, or two Queen-sized beds. The hotel also has an outdoor pool, a 24 hour fitness centre and a full service restaurant and bar for use of the hotel guests.

##Accomodation
All have - bathroom/shower - WC – cable TV with HBO – coffee maker – wi-fi internet access – hairdryer – iron and ironing board – telephone - (certain amenities may be payable locally)

##Eating and Drinking
The hotel has a full service restaurant and bar. The Waterworks Grille serves breakfast from 7am to 10am, lunch from 11.30am to 2pm and dinner from 5pm to 10pm whilst the Waterworks Bar is open from 5pm to 11pm every night. The location also means there is an array of dining and entertainment choices in the vicinity and the front desk can help you make arrangements for just about any cuisine you fancy.

##Swimming Pools
The hotel has an outdoor pool.