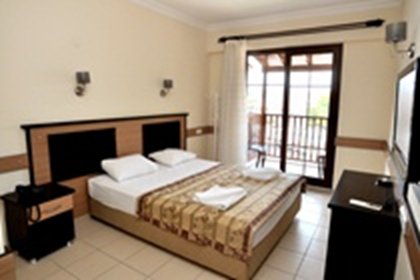 Hotel Overview
AVAILABLE MAY TO OCTOBER - The Telmessos Hotel is in a heavily forested high plateau, 3 miles from the beaches of Olu Deniz. Hisaronu was originally a quiet village but is now a developing and lively resort, perfect for holidays in Turkey. Olu Deniz has probably the most famous beach in Turkey. The long crescent shaped sandy beach runs around the bay and forms a spit separating the sea from the lagoon. The cooler mountain temperatures provide welcome evening relief from a day on the beach.

##Location
The hotel is built around the central pool area and surrounded by pine trees, 200 metres from the shops, bars and restaurants of Hisaronu. The local mini-buses run every few minutes to the beach in Olu Deniz and the 5 miles to the larger resort centre of Fethiye which has further shopping, an attractive harbour and a bustling nightlife.

*Check-out time 12:00*

##Accomodation
There are 214 rooms, all of which have a bathroom with shower, telephone, air conditioning, satellite TV, hairdryer and a safe.

*Certain amenities may be payable locally*

**Official rating 3***

##Eating and Drinking
The Telmessos has two restaurants, one indoor and one outdoor serving Turkish and English cuisine and there is a poolside bar serving drinks and snacks.

**All Inclusive**

Foods:

• Breakfast: 07:00 – 10:00 Open Buffet
• Lunch: 12:30 – 14:00 Open buffet.
• Coffee Break: 17:00 – 18:00 Coffee, Tea, Cookies
• Dinner: 19:00 – 21:00 Open Buffet.

Beverages: 10:00 – 23:00 Free of charge

• Local Alcoholic drinks: Raki, Vodka, Gin, Beer, Wines.
• Soft drinks: Cola, Fanta, Sprite, Mineral Water, Tonic Water, Tea, Coffee, Milk, Concentrated Fruit Juice.

Facilities times: 10:00 – 16:00 Free of charge
Extra Facilities:
• With pay: Safe boxes, Telephone, Laundry Service, Room Service, shopping centre, Ice Cream, Imported drinks (Brandy), Energy drinks are not within the terms of All Inclusive.
Notes: Check-0ut time 12:00

##Swimming Pools
The hotel has a swimming pool and a children`s pool.