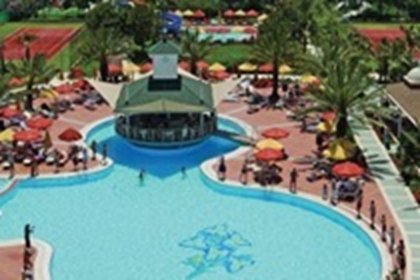 Hotel Overview
The Royal Vikingen Hotel Resort lies in the Antalya district of Turkey. Just a few miles from the popular resort town of Alanya, the hotel occupies a scenic spot within easy reach of the sea.

The luxurious rooms here are provided with balconies, televisions, air-conditioning and a mini bar. The hotel also features a bar and lounge area, a gymnasium, and tennis courts. Guests to the Royal Vikingen Hotel will certainly want to take advantage of the extensive spa facilities offered – these include a steam room, sauna, spa bath, Jacuzzi and massage room.

Some of the other facilities here include room service, a laundry service, conference rooms and a safe deposit box at the reception.

##Accomodation
Twin/double rooms sleep a maximum of 3 people and benefit from a sea view
All have * bathroom/shower * WC * TV * telephone * air conditioning * fridge * balcony/terrace * safe (extra charge) * wireless internet access * (certain amenities may be payable locally)

##Eating and Drinking
The hotel boasts a total of 7 restaurants, representing a number of different cultures and cuisines. There are also a number of bars onsite, with a total of 8 different locations where you can grab a coffee, fruit juice or a long drink.

##Swimming Pools
The Royal Vikingen Hotel benefits from a good quality swimming pool.