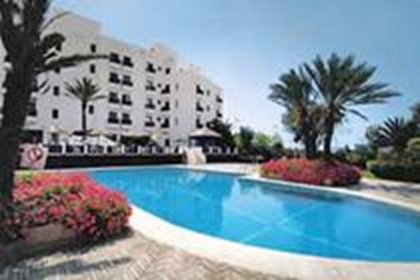 Hotel Overview
The Tulip Inn Oasis Agadir hotel is an impressive hotel set in its own tropical gardens, just a minute from the beautiful beach front of Agadir.
The hotel offers guests an opportunity to stay in luxury whilst also experiencing traditional Moroccan-style accommodation, for the rooms and hotel design is light and opulent but also embraces authentic Moroccan tone and design. Guests staying at this hotel can enjoy a range of facilities, from the outdoor swimming pool with poolside bar to the on-site restaurant whilst rooms are fitted with satellite televisions and air-conditioning as standard. A hotel speciality is the weekly traditional Moroccan evening, often set in the hotel's own authentic tent. This evening is not to be missed, with traditional food and entertainment like belly-dancing sure to transport guests back to the times of the Arabian Nights.
The area surrounding the hotel is typical of Agadir and features the lovely sandy beach which is just a short walk from the hotel. This famous beach is great for sunbathing or swimming in the Moroccan sun whilst the equally renowned Agadir Beach Promenade is also close by, for those looking to see a little more of the resort that they are staying in. Nearby attractions include The Casbah which is a panoramic viewpoint located above the city and the busy city centre which offers bustling streets packed with shops and eateries for guests to sample.
The Tulip Inn Oasis Agadir hotel is a great location to sample authentic Morocco whilst staying in comfortable and refined surroundings.
**Please note** All resort taxes are payable locally.

##Location
The hotel has 152 rooms on 4 floors with the majority having sea view rooms or views of the pool and surrounding gardens. The hotel interior is decorated in a typical Moroccan style. The local souk is a good place to haggle with the traders and pick up a bargain.

##Accomodation
All have * bathroom/shower * wc * TV * minibar * telephone * internet * air conditioning * (certain amenities may be payable locally)

##Eating and Drinking
The hotel has two restaurants and a poolside snack bar.

##Swimming Pools
The hotel has a swimming pool.