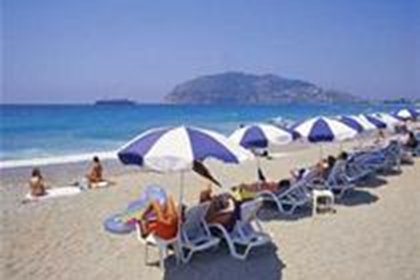 Hotel Overview
The Gold Hotel is on the beach with rooms being either the sea or pool view. Alanya sits on a rocky headland between two long sandy beaches facing the Mediterranean. A 13th century fortress dominates the headland and held within the historical walls are ruins of mosques and a cistern, a Byzantine church, a caravanserai and a covered bazaar.

##Location
The hotel is 100 metres from the beach. Alanya has numerous fish restaurants, cafes and bars. The cafes around the harbour are popular with tourists and from the park in the town, the road to the harbour, is lined with many boutiques selling handicrafts, leather, clothes, jewellery and handbags.

##Accomodation
Twin/double will have 2 or 3 beds

All have - bathroom/shower - WC - TV - air conditioning - telephone - hairdryer - balcony - (certain amenities may be payable locally)

##Eating and Drinking
The hotel has a restaurant with a bar, a snack bar, a lobby bar, a pool and a beach bar.

The hotel operates an all inclusive concept which includes breakfast from 7.30am to 10am, lunch between midday and 2pm, tea, coffee and cakes between 4pm and 5.30pm and dinner from 7.30pm to 9.30pm. All main meals are served buffet style. Drinks available from the pool bar between 10am and 11pm include local beer, local wine, local spirits (raki, gin, vodka), tea, coffee, cola, fanta, sprite and mineral water. The all inclusive programme does not include drinks at the lobby bar, facilities at the beach, ice cream, imported drinks, ice tea, cappucino, Turkish coffee, fresh orange juice and bottled drinks.

##Swimming Pools
The hotel has an outdoor swimming pool with a children's section.