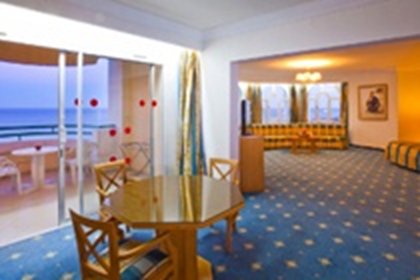 Hotel Overview
The El Mouradi El Menzah Hotel is in a seafront position in the Hammamet Yasmine area, a beach resort spread three miles along the coastline. There is a marina with yachts and elegant shops and a palm edged waterfront parade. The traditional walled medina has a selection of craft items and jewellery for sale. Hammamet centre has a lot of history and plenty of interesting architecture and a 15th century fort.

The hotel offers a great range of facilities for guests to take advantage of during their stay including an outdoor swimming pool which is perfect for cooling-off in during the day or after a busy day sightseeing. There is also a sun terrace where guests can work on their tan in the warm sunshine and an indoor pool is also available for those seeking respite from the heat. There are great sports facilities including tennis courts for friendly competitive fun and a gym for those seeking to stay active, plus there is also a spa with a sauna, hammam and massage treatments for those seeking to indulge and relax fully. There is also a fun kids club and playground to keep the little ones entertained and a beach area right next to the hotel is ideal for relaxing on.

*Certain amenities may be payable locally.*
*Official Rating: 4**

*Please note: For all arrivals there will be a Tourist City Tax per person per night – children under 12 years old are exempt. The tax is payable directly to the hotel upon arrival.*

*Please note: from 8.10.2015 the hotel will be closed and reopens on 01.05.2016. During this time guests will be relocated to the El Mouradi Hammamet.*

##Location
The hotel has direct access to the beach and is only a few metres from the port, medina and the casino. Hammamet centre is 5 miles away. For golfers, there are two courses within 5 miles, the 27-hole Yasmine and the 45-hole Citrus.

##Accomodation
Twin rooms sleep four adults or two adults and two children

All have * terrace/balcony * bath * WC * air conditioning * telephone * TV *

Please note: Due to limited power resources which the government controls, air-conditioning is only allowed to be run from mid-June to mid-September.

##Eating and Drinking
The hotel offers has one buffet restaurant, three A La Carte themed venues, two Snackbars, one fast-food area, and eight bars and cafés.

**ALL-INCLUSIVE**
MEALS
Early Breakfast: 03.00 – 06:00
Breakfast: 6.00 -10.00
Late breakfast: 10.00 – 11.00
Sandwich Time: 11.00 – 12.30
Aperotime: 12.00 – 13:00 & 18:00 – 19:00
Lunch: 12.30 – 14.00
Snacks: 12.30 – 16:00
Pizzeria: 12.39 – 16:00
Ice Cream: 14:00 – 16:00
Crepe: 16:00 – 18:00
Dinner: 18.30 – 21.00
Late snacks: 22.00 – 00.00

MAIN BAR: 9.00 – 24.00
Mineral water, filter coffee, espresso, cappuccino, infusion tea, hot chocolate, milk, juice concentrates, soft drinks, draught beer, wine, local liqueurs, local appetisers, local spirits and local cocktails.

##Swimming Pools
The hotel has an indoor and outdoor swimming pool and a children`s pool.