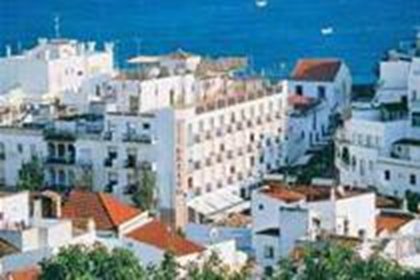 Hotel Overview
The Hotel Baltum is in the centre of the old town of Albufeira, approximately 50-100 metres from the beach and is a cosy family-run hotel allowing guests to experience the authentic Algarve. It will appeal to those looking for a lively holiday in Albufeira, wishing to be central in the quaint old town, with its excellent fish restaurants, and old world charm.
The hotel's amenities include 24-hour reception desk, daily newspaper, public parking outside the hotel and private parking upon availability. There is a restaurant with delicious local and Italian cuisine, and also a bar service.

The hotel boasts an array off rooms. All enjoy fresh design with a domination of white/blue colours representing the seaside. Comfortably furnished rooms come with air-conditioning, LCD TV, telephone, safety deposit box, and an en-suite bathroom with amenities. Free Wi-Fi is available throughout the hotel.

In the area are numerous leisure and sport options available, including fishing trips, surfing, diving, cave visits, volleyball and more. Among the other activities in the neighbourhood are the aqua park, shopping centre and golf courses.

*Certain amenities may be payable locally.*
*Official star rating: 3**

##Location
The Hotel Baltum is about 100 metres from the sea, and is centrally located in Albufeira, close to the harbour and Pescadores beach shops, cafes, with bars and restaurants near by.

##Accomodation
The Hotel Baltum boasts an array of comfortably furnished and with a light design double or twin rooms. All come with twin beds or a double bed, as well as an en-suite bathroom with shower/bath and a hairdryer.
In-room amenities include air-conditioning, safety deposit box, telephone, LCD TV, chair or armchair and free Wi-Fi.
Selected rooms come with a private furnished (table and chairs) balcony.
Baby cots are available (on request, subject to availability).

##Eating and Drinking
There is an a la carte restaurant Urban Pizza with external terrace and a bar. The restaurant offers mouth-watering local and Italian cuisine. Breakfasts, lunches and dinners are available in the restaurant. An array of restaurant facilities, bars and fast foods can be found in the centre and close to the beach.