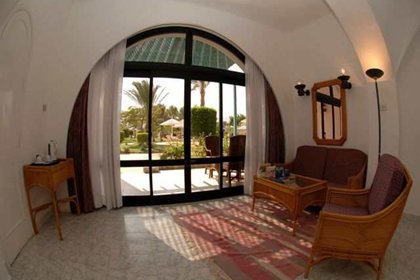 Hotel Overview
Hilton Nuweiba Hotel
Book, enjoy and explore the Red Sea from the sun-baked Hilton Nuweiba Hotel a fantastic holiday destination for couples, families and groups.
The Hilton Nuweiba Hotel is located in a stunning location on the Sinai Peninsula overlooking the Red Sea. Sandy beaches on one side and the stunning Sinai Mountains as a backdrop, the Hilton Nuweiba Coral Resort offers a location that is both tranquil and beautiful. This welcoming and spacious resort oasis is a great place whether relaxing or trying out water sports and other activities. The resort has its own diving and water sports centre and just two kilometres from the hotel in Mezinah clients can swim with dolphins. The resort's relaxed modern Egyptian design creates an utterly stress-free atmosphere.
 
 
Local tips: for a lovely day out visit the nearby bedouin settlements - either (1)  Maizena to the south or (2)  Tarabeen to the north. Both are very pretty with Tarabeen often citied as being the prettier of the two. Tarabeen is sited on a sandy beach resplendent with palm trees, reminiscent of a story book oasis complete with sand dunes. The settlements offer eateries, shops and kiosks to bring home reminders of your visit. All in all a good day out to round of your Egyptian holiday.
 
Please note: Rates and conditions are not valid for Egyptian passport holders.
As a precaution the Governor has limited the permissions for transfers from SSH to Taba and they only operate during daytime. No transfers after sunset. FACILITIES:Food, Drink and Entertainment: Several Restaurants serving Italian Cuisine, Seafood and International dishes -: (Breakfast 06.30-11.00, lunch 12.30-15.30 and dinner 18.30-22.30). The Casa Pesto restaurant has a new concept as a beach restaurant, guests can enjoy a meal in their swimming wear, open from 11.00-19.00 and offering pizza, burgers, sandwiches and salad bar. Pool Bar, Lobby Bar and Beach Bar.
 
Sports, Games and Activities: Swimming Pool, Tennis Court, Shisha Corner and Football Court on the beach, Squash, Snorkelling, Pool Table, Water Sports Centre with Scuba Diving, Windsurfing and Jet Skiing. Dive Centre with Instructor.
 
For the Kids: Children's Playground, Kids Club.
 
Additional: Laundry Service, Currency Exchange, Safety Deposit Baoxes, On-Site Convenience Store, Baggage Storage and Babysitting Service (locally charged).