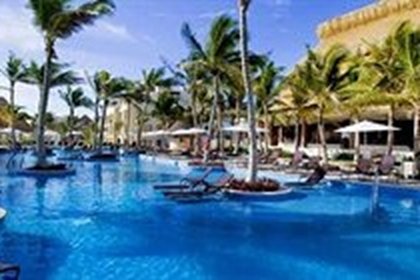 Hotel Overview
The Hard Rock and Casino Hotel is a unique place to find your bearings in Punta Cana. Designed to provide its guests with a stellar, rock-star welcome, it is really a self-contained experience, with everything you need for a larger-than-life, exciting getaway. Amongst 121 acres of beautiful coast, this resort provides beautiful grounds, restaurants, a vast casino, and show-stopping displays of Hard Rock's iconic music memorabilia. For something plugged-in during the evening, there's the Oro nightclub where you'll be able to rock out on the dance floor. Here there are nightly parties and shows, with a real kick. As well as these, this is a five-star service with all the amenities of a traditional all-inclusive luxury escape. The Classic and Rock n' Roll Suites come with high-end linens and tasteful furnishings, purified water, individually-controlled air conditioning, laptop-sized digital safe, and, in addition to the mini-bar, a liquor dispensary that shares whiskey, tequila, rum and vodka at the touch of a button. All gratuities, food, and drink are taken care of, including those Hard Rock favourites: beer, wine & spirits. The stay also comes with unlimited long distance phone calls and complimentary resort-wide wireless internet. And further explorations will uncover a relaxing Rolling Hot Stones massage at the Rock Spa, 18 holes on the Jack Nicklaus-designed golf course, or swim-up bars in one of the 11 swimming pools.

##Location
The Hard Rock and Casino Hotel is located in Punta Cana, a blissful island in the Dominican Republic, with unbroken stretches of white beach and jungle. Christopher Columbus, who was the West's first visitor, described it as a ?beautiful island paradise with high forested mountains and large river valleys'. Punta Cana is now one of the largest and fastest growing tourist destination in the Caribbean and has developed into a popular holiday destination for people from all across the globe. Punta Cana boasts more that 50 hotels and 30,000 hotel rooms dispersed across 40 kilometers of the East Coast?s excellent coast. It is also the largest single destination for golf and has become one of the prime locations for professionals and beginners looking to swing a club. Over the decades, watersports have become a major draw and are well catered-for, with diving and boat trips available along the coast. For experiencing the kaleidoscopic variety of aquatic life ? there is really no finer way to spend a Punta Casa morning than an early dive.

Please beware that visitors to the Dominican Republic will need to be in possession of a passport that is valid for at least 6 months AFTER their return date to their country of origin.

##Accomodation
There are a range of luxury suites, ranging in size and price, from the restful Classic Suites to the rock n roll designed Hard Rock Suites, which come with hot-tubs, rock n roll inspired décor, and the ambience of a private nightclub.

##Eating and Drinking
There are nine restaurants, bars and cafes on site, serving cuisine as diverse as chic Asian fusion, Mexican, Italian and Caribbean. There is also in-room dining.

##Swimming Pools
There are 11 swimming pools.