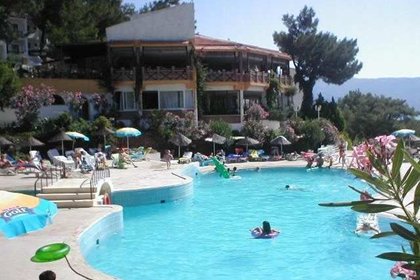 Hotel Overview
The Halici Semera Holiday Village sits perched on a hillside location affording it majestic views over the harbour the town of Marmaris and beyond to the awesome Aegean and Mediterranean. Built in the traditional Turkish chalet style giving most guest rooms uninterrupted views and privacy. The Halici Holiday Village offers guests a perfect spot to relax unwind soak up the endless hours of sunshine while still being close enough to the resort centre to enjoy the famous Bar Street's nightclubs, bars , restaurants, discos and bars. With a fabulous beach only 300m away and great shopping only 3km away in the resort centre it would be hard to imagine a more perfect spot to book for your next Turkish holiday.Official Raing 4 Star
It must be noted that due to the location of this hotel it would not be suitable for holidaymakers who rely on a wheelchair for mobility or those who experience difficulty walking.
Local tips: for those holidaymakers who enjoy a good bargain Marmaris is a veritable shoppers paradise! Famed for its leather, ceramics, jewellery and carpets it is an experience not to be missed.Please Note ? Rates are exclusive to European Union passport holders only.