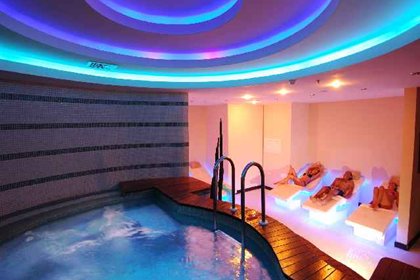 Hotel Overview
The Goldcity Tourism Complex rests on a hilltop in the popular summer resort of Kargicak, near Alanya on the beautiful Turkish Riviera. Situated just 5 minutes by shuttle bus from the beach with the scenic Toros Mountains and the sparking blue Mediterranean as decorative backdrops, this magnificent 5 star hotel is perfect for couples and families with 386 attractive rooms in different categories with modern amenities and gorgeous sea views! Guests to the Goldcity Tourism Complex can discover marvellous beaches, explore delightful villages nearby and experience real Turkish hospitality.
Getting to the hotel: Antalya Airport is 140 km and Gazipasa Airport 26 km from the Goldcity Tourism Complex.
Local tips: The Goldcity Tourism Complex operates a shuttle service to the private beach (free, 5 times a day) and to Alanya City Centre (extra charge, 3 times a day) where a historic fortress dominates the headland and within the walls is the ruins of mosques and a cistern, a Byzantine church and a covered bazaar.
Please Note: Rates are exclusive to UK passport holders only. FACILITIES:Food, drink and entertainment: There are several dining choices including the main buffet style restaurant for breakfast, lunch and dinner, the a la carte Banquet Restaurant for special events, the Turkish A La Turca Restaurant, Sakura Teppanyaki and Sushi Bar, the Up Hill Lounge for international fine dining, and the World Cuisine Restaurant for Italian, Mexican and Mediterranean dishes. The Zodiac 360 degree revolving bar presents live music and wonderful views of Alanya. In addition there is a Vitamin Bar, 188 Pool Bar, Olympic Bar, Beach Bar, Lobby Piano Bar, Joe Hanney's Irish Pub, the Gold Carafe wine bar, and the Patisserie for aromatic coffees, biscuits and desserts. All inclusive includes a complimentary meal in the hotels A La Carte restaurant for stays over 5days and free local alcoholic and non alcoholic drinks.
Thematic Cuisine - Mediterranean, Mexican, Itlaian, TurkishEveryday one different cuisine available and free for the guest with min stay of 3 nights, reservation required
World Cuisine - Mediterranean, France, Italian, Mexican, Thai, TurkishExtra charge and available for the guest with min stay of 4 nights, reservation required.For adults 5EUR per person, children aged 7-11 years 3EUR per person, children 0-6 years are free
Sports, games and activities: Large pool with an aquapark (12 adult slides and 8 slides for children, open 10:00-12:30 and 14:00-17:30), 50 metre Olympic-size swimming area, three kids pools and a relaxing pool. There is also a pool that has spectacular views of the Mediterranean Sea and Alanya Castle, a heated indoor pool with a kids pool and Jacuzzi with panoramic views, mini club and playground. The hotel has 14 massage and skincare/body treatment rooms, an authentic Turkish Bath, medical centre, saunas, steam rooms, shock showers, hairdresser, fitness centre, relaxation areas and Jacuzzis. Guests can enjoy bowling, volleyball, mini golf, cycling, billiards, table tennis and a new range of water sports at the Cable Park.
 
Please Note: During the winter season, outdoor pools will be closed except indoor swimming pool.
 
Additional: 24 hour reception, Free High speed Wi-Fi internet access is available in the lobby (extra charge in the rooms), washing, ironing and dry cleaning services (extra charge), a TV corner and a shuttle bus to the beach (free) and local town (extra charge).