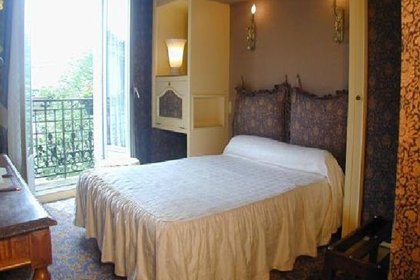 Hotel Overview
Family run 3* Hotel George Sand enjoys a fabulous location only moments from the great Arch of La Defense in Paris, Champs Elysees and the Chateau de Versailles and a 16 screen UGC cinema. Fine dining restaurants, great shopping and entertainment experiences are all within walking distance or a short ride on the metro away from the hotel. Paris tourist attractions including the Louvre Museum, Arc de Triomphe, Bastille and Eiffel Tower are all easily accessible via excellent metro connections from the hotel. Offering superb value for money, excellent services and facilities, comfortable guest rooms in a warm familiar ambience makes the 3* Hotel George Sand an ideal choice of hotel for a great stay in Paris. For a memorable stay in this fabulous city book your stay today at the lovely Hotel George Sand.
Getting to the hotel: Grande Arche de la Defense metro station is easily accessible to/from the hotel. Grande Arche railway station is within easy reach of the hotel. Paris' airports are easily accessible to/from the hotel via great metro, rail and road connections.
Local tips: whilst in the area do not forget to visit Les Quatre Temps ? easily the best shopping and entertainment centre within reach of the hotel ? apart from the city of Paris itself obviously. Ask staff at reception for further information local guidance and directions. FACILITIES:Dining: a sumptuous French style breakfast buffet is offered daily featuring well sourced well prepared produce, baked goods, juices and beverages. The relaxing hotel lounge bar offers fine wines, spirits, beers and beverages throughout the day.
Additional: 24hr reception, currency exchange services, room service, laundry services, fax, copying, messaging, postal business services, wake up call service, housekeeping, maid services, massage, hairdressing and manicure services on request, dry cleaning services, tourist information services, public parking nearby, safety deposit box (nearby), newspapers. Some services will incur local charges.