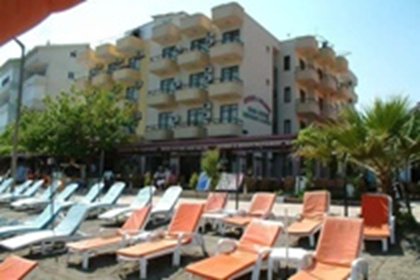 Hotel Overview
Located in Marmaris one of Turkey's largest and liveliest resorts, the George and Dragon Beach Hotel is as the name suggests situated right by the beach in the picturesque resort. The hotel enjoys some stunning views over the Mediterranean and is also just a short walk from the centre of the resort where you can find many shops and restaurants along with a bustling nightlife in the evenings.

This modern and charming 2-star hotel boasts a convenient central location that would ideally suit couples and families looking for a relaxing beach holiday or for more lively entertainment in the evenings at the resort. Guests at the hotel will always be ensured a comfortable and pleasant stay with well-furnished rooms that also benefit from air conditioning (additional charge) as well as some great features including a private beach and both indoor and outdoor restaurants. There is also various nightly entertainment hosted at the hotel giving you a fun alternative to seeking out the nightlife in the resort, or for when you just feel the need to sit down and relax you can do so in the comfortable lobby area with two large TV screens; and for younger guests there is also a small children play area to help keep them occupied when not out exploring all the attractions and sights of this beautiful location.

##Location
Marmaris is a popular tourist destination full of plenty to see and do from the many shops and restaurants to a lively nightlife. The nearby beaches offer great places to enjoy the sun whether it is relaxing on the sandy beaches all trying out some of the exciting water sports such as windsurfing to boating. You can also take thrilling jeep safaris to explore the area and go on great boat excursions and cruises to explore some of the tucked away beaches and coves of the Aegean Coast. The resort is full of local and more commercial shops selling everything from clothing to local produce and there is a great selection of restaurants that serve a variety of cuisines to suit every taste. The nightlife in the resort is just as lively with several popular spots such as Long Beach where you can find a huge variety of trendy bars and restaurants or if you are looking to stay up till the early hours, the party really starts in the Bar Street with great clubs, bars and even parades and shows performed in the streets.

##Accomodation
Each of the comfortable and well-furnished rooms at the hotel feature balconies with views over the Mediterranean and come equipped with split air conditioning (available for additional charge) and separate bathrooms. All of the rooms also include: shower – WC – telephone – hair dryer – safe deposit box (additional charge).

##Eating and Drinking
Guests can enjoy a delicious range of local and international cuisine at the hotel, with two restaurants to choose from including an indoor restaurant and an outdoor a-la-carte restaurant.

There is also a lobby bar where you can enjoy a cool drink during the day or evening and a snack bar for a variety of refreshments to help keep you going.

##Swimming Pools
The hotel does not have a swimming pool.