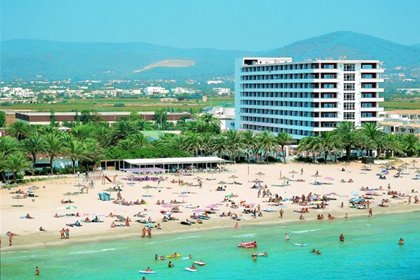 Hotel Overview
The Fiesta Playa D'en Bossa Hotel is a fresh property located on the seafront of the sapphire blue Mediterranean on the sandy Playa d'en Bossa on the island paradise of Ibiza. Situated 5 km from the town centre and the crazy nightlife, this popular 3 Star complex is perfect for couples, friends and older families (the Fiesta Playa is not recommended for children under the age of 16) who want to be close to the vibrant club scene of Ibiza as well as enjoying the luxury of being right on the beach. All 278 comfortable guestrooms feature modern amenities with extras such as Wi-Fi Internet access, iPod docking stations, and access to the state of the art Sports Centre.
Ibiza Airport is 3 km from the hotel.
Local Tips: The Fiesta Playa D'en Bossa Hotel is perfect as a base from which to experience the major clubs including Space, Bora, Bora, Amnesia, Privilege, Pacha and El Divino, all reached by a short walk, taxi ride or Discobus.