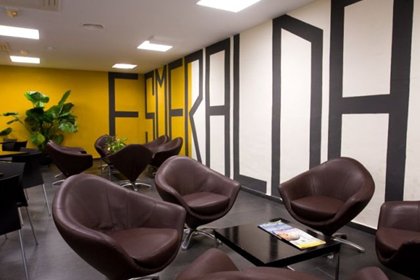 Hotel Overview
Get a fantastic deal for a sunny holidays in Benidorm in the Esmeralda Beach Hotel. This Costa Blanca budget hotel is located right in front of the Poniente Beach in central Benidorm. The Esmeralda Beach Hotel boats fantastic views of the bay, fishing harbour and dove park. Discover all the entertainment in the sunny Spain with lots of shops, cafes and restaurants nearby. A good location for a beach holiday in a basic, tidy and clean hotel.
The official rating of this hotel is 2 stars. 
 
Getting to the hotel: Alicante Airport is 50 km away from the Esmeralda Beach Hotel.
With the location of this accommodation Shuttle Transfers will drop the guests at a drop off point near-by. If you have walking problems or disabilities we recommend a private taxi transfer.
 
Local tips: Benidorm is not just world famous for being a vibrant resort with plenty of nightly entertainment and trendy beaches it is also boasts one of the best shopping experiences in Spain with designer labels, jewelers, leather goods and Spanish goods in abundance. FACILITIES:The Esmeralda hotel's facilities include its very own tapas bar, and the main attraction is on the doorstep - the beach!
Food, drink and entertainment: Continental buffet breakfast (open to public), tapas cafe-bar and TV lounge.
 
Sports, games and facilities: Poniente Beach is right in front of the hotel.
 
Additional: 24 hour reception, currency exchange, credit card payment, Internet corner(paid locally), telephone, laundry service(paid locally), security service and picnic service (on request and paid locally).
 
Festive arrangements:
For stays on the 25th of December 2013 the Christmas Gala Lunch is mandatory and included in the price.
For stays on the 31st of December 2013 the New Year's Eve Gala Dinner is mandatory and included in the price.
For stays on the 14th of February 2014 the Valentine's Day Gala Dinner is mandatory and included in the price. SPECIAL OFFERS:All guests staying on a full board basis will receive free wine or water at meal times. This offer is valid for stays between  01st January 2013- 26th  March 2013, 01st April 2013 - 30th April 2013, 18th November 2013 - 4th December 2013, 9th December 2013-19th December 2013, 6th January 2014 - 13th March 2014, 23rd March 2014 - 15th April 2014 and 20th April 2014 - 30th April 2014.
 
Guests staying full board for 11 nights or more from the 1st May 2013 to 16th November 2013 will also receive free wine and water during meal times.