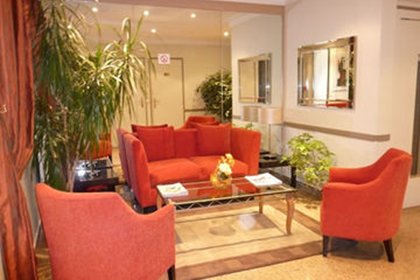 Hotel Overview
The hotel is located in a charming street, a few steps from the Etoile and Champs Elysees, and 10 minutes from the Palais des Congres. Guests can find a selection of great shops and restaurants in the surrounding area.This 3-star hotel is considered a superior tourist-class property. It is very well-located, and offers very good service for its category. (0708FP)20 kms to the airport (brescia montichiari international airport), 25 kms to the airport (paris-charles de gaulle airport), 2 minute walk to the nearest metro station (ternes), 3 km to the nearest station (saint lazare), 2 minute walk to the nearest bus stop, 1 km to the nearest fair site (palais des congres).Medium sized lobby, Earliest check-in at 12:00, 1 lift, 6 floors.Connection for laptop, Television, Satellite television, Mini bar, Hairdryer, Voltage 220v.
Important information:
Please note as of 1st March 2015, the government has implemented a new city tax as follows: € 1.65 PER PERSON PER NIGHT for stays in 3 star hotels
This is to be paid by the guests to the hotel directly upon check in or check out.