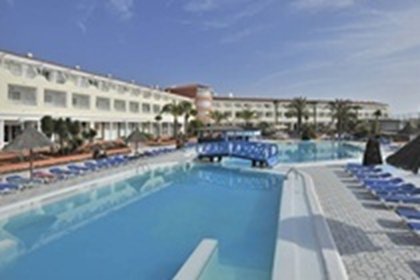 Hotel Overview
The Costa Tropical Apartments can be found within Costa Antigua on the island paradise of Fuerteventura, one of the best spots in Spain for a relaxing holiday surrounded by beaches, charming towns and several tourist attractions. You can find the nearest beach of Playa del Castillo just 1km away and not much further is the beautiful resort of Costa Caleta full of shops, restaurants and cafés, as well as attractions like the Oasis Park Fuerteventura to visit close by.

Set amongst serene surroundings these modern 2-star apartments have been designed to cater for guests every need all at an affordable cost, with its combination of 90 rooms and 53 self-catering bungalows complimented by some excellent facilities like the large outdoor pool and a buffet restaurant. While staying at the Costa Tropical Apartments you will find there are many ways to relax and enjoy your stay, whether you are just looking to soak up the sun on the terrace and gardens or try some of the wonderful spa facilities available for extra charge including a sauna, a jacuzzi and massages. Guests who like to stay a bit more active will find plenty to do as well with a variety of sports facilities found onsite including tennis courts, a football field and just as much for kids with a playground and a mini-club that will help keep them entertained. You can also enjoy the occasional entertainment such as live music and shows and guests looking to ensure they keep in shape can always use the small but well-equipped gym. To help make your stay at the Costa Tropical Apartments even more memorable guests also receive free child tickets to the nearby Oasis Park Fuerteventura Theme Park where there is much to do and see including a zoo, a beautiful botanical garden and several exciting shows. You will find there are also several useful services to help make your stay at the apartments as pleasant as possible with an internet zone to help you in touch with friends/family back home, as well as mini-market for all your essential supplies and if you need any assistance the friendly staff at the reception can help along with arrange services like safe deposit boxes, currency exchange, laundry and car rental.

##Location
The fabulous Fuerteventura area provides many great opportunities for some exciting outdoor activities, beaches and plenty of local shops, restaurants and bars offering all you need to keep you busy. The nearby beach of Playa del Castilo lies just 15 minutes from the hotel and is the perfect place to enjoy the best of the wonderful sun as well as plenty of thrilling water sports to try out including diving, wind surfing and water skiing. There are some interesting places to visit nearby such as the charming traditional fishing village of Morro Jable, a natural blend of the old town and more recent tourist developments provide picturesque walks along the narrow streets and harbour or visit the great selection of shops and restaurants in the newer areas. That combined with some brilliant tourist attractions like the Oasis Park Fuerteventura, the Baku Water Park and the famed American Star ship wreck will make a holiday in Fuerteventura a memorable one for all.

##Accomodation
The accommodation at the Costa Tropical Apartments consist of either apartments suitable for up to 4 people or the spacious bungalows for up to 3 people, each offering plenty of space with a combined bedroom/lounge area, separate bedroom, kitchenette and a complete bathroom.

You will find each of the apartments and bungalows are well furnished and come with all the amenities needed for a comfortable stay with: TV with satellite/cable channels ? telephone ? sofa bed ? safe deposit box (extra charge) ? balcony ? microwave ? fridge ? kettle ? toaster.

##Eating and Drinking
Guests at the Costa Tropical Apartments can choose to stay just as self-catering with the facilities provided in all the apartments/bungalows and/or choose to enjoy meals at the buffet restaurant, which is open for breakfast, lunch and dinner serving a delicious choice of local and international dishes.

In addition to the main buffet restaurant there is also the Pizzeria Mamma Mia buffet restaurant open in the summer where you can enjoy a variety of pizzas and snacks, and guests staying as all-inclusive can dine at the Morrocoyo Italian Restaurant.

If you are just looking for a refreshing drink or a snack then you can always visit the café/bar open from 3:30pm till 11:30pm and there is also a pool bar open during the summer between 10am and 6pm.

##Swimming Pools
There are some great ways to enjoy the while at the apartments with a large outdoor pool surrounded by a terrace full of loungers/parasols and also a smaller separate pool for children to ensure they don't miss out on the fun. In addition there is also a pool bar where you can grab a variety of drinks and refreshments to help you keep you going while under the sun.