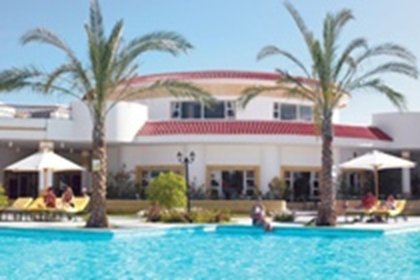 Hotel Overview
Located with the famous Shark's Bay area of Sharm El Sheikh, the Coral Beach Tiran Resort is the perfect place to spend a brilliant holiday in this popular tourist destination and is a popular choice among couples and families alike. You can find a great variety of attractions and activities to enjoy all close by including many water activities such as snorkeling and diving or alternatively the old town of Sharm with its picturesque buildings and shops can be found just 12 miles away.

This charming and relaxing 4-star resort aims to provide the perfect getaway location for its guests, with all the comfort you need provided by its 367 elegantly appointed rooms along with plenty of chances for relaxation and entertainment with leisure facilities including its huge central swimming pool and two tennis courts, all surrounded by green landscaped gardens. There are some wonderful ways to relax while staying at the resort, whether you choose to soak up the sun on the private beach, by the private pools or alternatively you can let yourself unwind with SPA facilities such as the sauna, steam rooms and massages. For guests looking to be a bit more active they might like to try some memorable diving and snorkeling trips with excursions and lessons organized by the onsite diving centre (PADI) as well some great opportunities for outdoor activities such as horse and camel riding found nearby. Back at the resort there are also activities such as table tennis to try and even more to do for kids with the friendly staff at the Coral Beach Kids Club providing hours of fun and entertainment for them or there is also a large playground to help them let off steam. Guests can also enjoy the several restaurants and bars around the complex providing delicious meals and refreshments; whereas other services at the resort also includes wireless access in the public areas, parking space available onsite, a 24-hour front desk, gift shops, laundry, concierge services and room service. Additional there is free Wi-Fi at the hotel lobby available.

*Official Rating: 4**

##Location
You will find there is much to do and see in the Sharm El Sheikh area during your stay, for a start if you are looking for a great shopping experience or the lively nightlife of the area then you need only visit Naama Bay just a short drive away, it couldn't be easier. For a great range of water sport activities including scuba diving the hotel has a diving centre onsite and can be enjoyed at the private beach nearby or the many other famous spots not far away. Guests at the resort also may like to adventure out on desert safaris and there are several famous sites that are definitely worth a visit during your stay such as St. Katherine's Monastery, visit the legendary site of Moses's burning bush or the marvel that is Moses's mountain just a few minutes from the hotel.

##Accomodation
The 367 comfortable and well-appointed guest rooms and suites at the resort include a choice of accommodation to suit almost any guest, with 348 classic rooms (240 overlooking the sea and 108 with views over the garden), along with a range of suites including 10 classic, 6 premium and 3 royal suites. Suites are ideal for families and groups with separate dining areas, workspaces and multiple bathrooms and all the rooms and suites include all the modern amenities you would need with: air conditioning – satellite TV – minibar/fridge – terrace/balcony – safe deposit box – telephone – shower/bath – WC.

Please note that only king-sized beds are available in suites.

Please note that a visitor's visa may be required if you travel outside the Sinai desert and if you go diving or sightseeing outside Sharm El Sheikh. The visa will approximately cost 10 GBP.

##Eating and Drinking
The choice of restaurants at the resort includes The Mermaid where you can enjoy an international buffet for breakfast, lunch and dinner, all while enjoying spectacular views over the Red Sea. For a great alternative there is also the Shark's Bay Seafood Restaurant for some tasty fresh seafood or also the Café Al Zaeem where you can sample some exotic Middle Eastern cuisine.

For lighter meals, snacks and drinks you can try the Moka Café, which specialises in a wide range of teas, coffees as well as cakes and light meals. Alternatively outside All Inclusive concept, there is also the more traditional style Blue Moon Bar where you can enjoy live music and the Splash Bar by the pool.

##Swimming Pools
There are 3 terraced pools at the Coral Beach Rotana Resort Tiran providing ideal places to spend some time soaking up the sun or to go for a refreshing dip. This includes the large central pool and a separate for children, along with plenty of refreshments and drinks available at the several pool bars nearby.