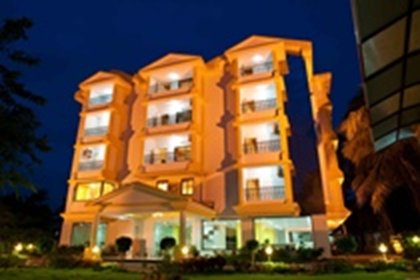 Hotel Overview
This is a luxurious hotel where guests can experience a world of elegance and comfort. Colva's famous beach is only 4 minutes-walk from the hotel, this beach is well known for its virgin white sands, calm waters and length; expanding around 22 kilometres.

Guests of this complex can bask in the warmth of Goa's hospitality while enjoying the best in accommodation, food and services. Facilities on offer to guests at this air-conditioned establishment include a lobby area with a 24-hour reception, a cloakroom and a currency exchange facility. The hotel offers a bar, a multi-cuisine restaurant, a breakfast area and a 24-hour coffee shop in the lobby. There are conference facilities, ideal for corporate events, household celebrations and theme parties. The Banquet-cum-Conference hall offers capacity for 50 people, the latest audio-visual technology, support facilities and a breakfast area, as well as, WLAN Internet access. Guests can take advantage of the travel service and airport pick-up and drop-off services and room and laundry services (the latter is a 24-hour service).

The hotel also has a "Lotus Spa Centre" which offers; 22 different types of massages, diverse aromatic treatments and a free health profile for its guests.

The hotel is also closely situated near other amenities such as restaurants, shopping venues, exclusive boutiques, water sports activities, medical centres and other beaches such as Benaulim beach. The hotel is just 10 minutes away from a train station and a bus stop making it easy for guests to explore the surrounding areas.

##Accomodation
All 65 luxurious rooms are fully furnished and equipped. The decoration is bright, modern and tasteful. Most of the rooms have a balcony attached with astonishing views of palm trees in the distance and the sea. The rooms included:
• Tea/ coffee maker
• Air-conditioning
• Cable television
• Direct-dial telephone
• Mini Bar
• Private safety deposit box
• Essential toiletries
• Coffee kettle (includes sugar sachet, coffee sachet, creamer sachet and tea bag)

##Eating and Drinking
The hotel has a buffet restaurant located on the ground floor "The Vitaminz", one 'A la Carte' multi cuisine restaurant "Barzilia" and a wine and salad bar "Greens and Grapes"; excellent for snacks.

Besides the hotel options for dining and drinking; there are plenty of choices within close distance from the premises.

##Swimming Pools
There is no pool at the Colva Kinara, however the Williams Resort across the road allows anyone to use their pool.