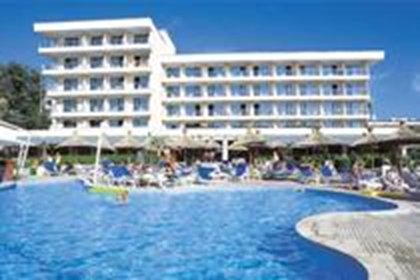 Hotel Overview
AVAILABLE MAY TO EARLY OCTOBER - The Club Hotel Evrika has a wide range of leisure facilities for all the family. The resort of Sunny Beach offers a good choice of activities, restaurants and bars; it also has 5 miles of sandy beach with plenty of water sports.

##Location
The Club Hotel Evrika is located 100 metres from the beach in the resort of Sunny Beach. It is also close to the centre of the resort; which is about a 500 metres walk.

##Accomodation
All rooms have 2/3 beds
All have * bathroom/shower * WC * air conditioning * TV * hairdryer * telephone * mini bar * (certain amenities may be payable locally)

##Eating and Drinking
The hotel has a restaurant, a lobby bar, lounge bar and a poolside Bar. The hotel operates an All Inclusive programme which includes breakfast, lunch and dinner, assorted pastries and ice cream between 3pm and 5pm, unlimited local beverages - alcoholic and non alcoholic at bars and restaurants until midnight.

##Swimming Pools
The hotel has two outside swimming pools with children`s section, sun terrace and sun loungers.