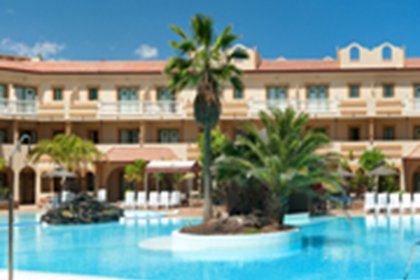 Hotel Overview
The Castillo de Elba Aparthotel was constructed in 1997 and is an ideal place, not only for the vacations of the family, but also for relaxation after a busy day in the island. The hotel is located in a peaceful area, easily accessible, close to all the important facilities and areas: the airport is at a distance of 4 km, the capital of the island Puerto Rosario is about 10 km away, a golf course is only 2 km away and, lastly, the village El Castillo and its magnificent beach is at a distance of only 2 km. away.



MEALS

Breakfast Buffet (Main Restaurant: 08:00-10:00)
Lunch Snacks (Pool Bar: 13:00-15:00)
Dinner Buffet (Main Restaurant: 18:30-21:30 All the year)

SNACKS
Snacks (Snack Bar: 11:00-17:00)

DRINKS
Drinks (Pool Bar: 11:00 - 18:00)
Drinks (Cafeteria Bar: 18:00-23:00)


Hair Dryers, kettles and toasters can be requested at an additional charge.

Please note: Reception is open from 07:00 - 23:00 (security guard during the night).