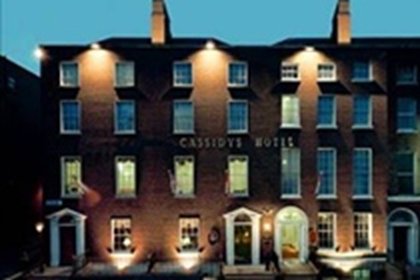 Hotel Overview
Cassidy's Hotel is a boutique-hotel sat at the top of O'Connell Street in the north of the city centre. The Garden of Remembrance is within easy reach as are numerous other attractions including the Gate Theatre which is just seconds from the hotel entrance. Down the cobblestones of Dublin's old city you can find inviting pubs and numerous more modern bars offering a great night out whilst the small boutiques also cater to a day spent shopping.

The hotel itself enjoys traditional charm with regal carpeted floors and chandelier-style lighting making up the lobby area whilst the guestrooms enjoy a slightly more modern-take on style with cream walls and oak furnishings. Wi-Fi access is offered in guestrooms to keep you connected and room service is also offered for when you fancy a quiet dinner in. Numerous venues also feature on the property including the Groomes Bistro which serves delicious evening meals as does Restaurant Six which is where you can sample breakfast to ease you into the day. The hotel staff are on-hand 24-hours a day offering a range of services including booking assistance and laundry services to ensure a stress-free stay.

*Certain amenities may be payable locally.*
*Official star rating: 3**

##Location
Situated in the north of Dublin, the Cassidy's Hotel is within easy walking distance of attractions such as the James Joyce Cultural Centre and all the entertainment offered at the Gate Theatre which is just seconds away. Dublin Castle can be found just across the river and for a variety of inviting pubs and bars you need only take a short stroll from the hotel entrance. Shopping opportunities are in abundance too from trendy boutiques to high-street favourites.

##Accomodation
113 rooms are spread over six floors on this property. Inside each you can find a traditional design with plush furnishings and cream walls. Each room offers; tea and coffee making facilities, desk, in-room safe, air-conditioning, phone, daily housekeeping, premium bedding, en-suite bathroom, soundproofed rooms, TV and Wi-Fi.

##Eating and Drinking
Guests can enjoy a delicious breakfast each morning in Restaurant Six where evening meals can also be enjoyed or for a change of scene, there is the Groomes Bistro offering a refined setting. Room service is also available.