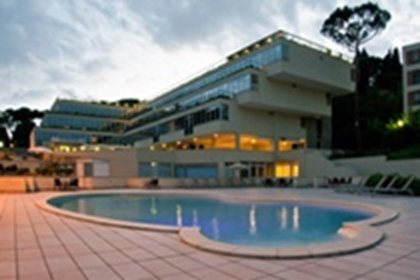 Hotel Overview
Cardinal Hotel St Peter can be found in the quiet district of Villa Pamphill, in the stunning city of Rome. The impressive Vatican City is a short walk from the Cardinal St Peter Hotel. Rome City breaks are the perfect choice for those of you who want to do a spot of sightseeing with the Trevi Fountain, the Coliseum, Piazza Navona and much more – so book today!
This 4-star Rome hotel is 16 miles from the airport, which is great, as it will only take 30 minutes to transfer to your holiday destination in Rome City. Cardinal St Peter Hotel consists of 115 guest rooms, each with air conditioning, satellite TV, safe, mini bar and Internet connection. Onsite you will find a swimming pool with a sun terrace and loungers and a roof garden with 3 Jacuzzis commanding excellent views of the city on your holiday to Rome City. There is a also a restaurant, bar, 24-hour reception for a late night out in the city centre, room service, a business centre, conference room, wireless Internet access (extra charge) and parking – so book today!
Rome is a stunning and vibrant city in Italy with many historic sites to see, museums and galleries to scour, romantic cafés on charming squares to chill out in and soak up the atmosphere, exclusive boutiques, chic shops and a lively nightlife. So book your perfect City break to Rome City today!

##Location
Cardinal Hotel St Peter is a short walk from the impressive Vatican City where you can amble around the grounds and check out the Sistine Chapel or why not check out the Colossuem to the Forum, the Pantheon and the Catacombs. You could make a wish at the Trevi Fountain, check out the Spanish Steps or grab some food at one of the many restaurants that litter the charming squares, all within easy reach of the Cardinal St Peter Hotel in Rome City – so book today!

##Accomodation
All have a WC - bath/shower - air conditioning - Internet connection - mini bar - safe - plasma TV - telephone.

##Eating and Drinking
The hotel has a bar and a restaurant.

##Swimming Pools
The hotel has a swimming pool surrounded by a sun terrace with loungers. There is also a roof garden with 3 jacuzzis for the ultimate relaxation on your Rome City holidays.