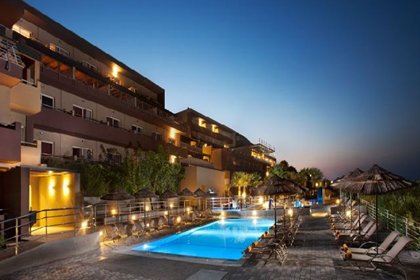 Hotel Overview
The Blue Bay Resort & Spa Hotel, overlooking the clear turquoise waters of Mononaftis Bay, is on the exotic northern shores of Crete, an island renowned for its dramatic rocky coves, very mild winters, and vibrant, healthy Mediterranean cuisine. It is in the pleasant fishing village of Agia Pelagia, and is only a 22km drive from the historic port and capital city of Heraklion.

Please Note: Due to the location of this hotel, the facilities of the hotel are not suited to customers with walking difficulties. FACILITIES:The hotel provides excellent live entertainment with various themed nights, and a luxurious Four Seasons Spa where guests can relax in a sauna or enjoy first-class beauty treatments. Guests are also welcome to make use of the hotel's freshwater swimming pools, enjoy delicious local and international cuisine on site, and choose from a wide selection of drinks and snacks at the hotel's Lobby Bar and Snack Bar.
Meals and drinks are served on an all-inclusive basis throughout the day, and guests may also dine at the elegant a la carte restaurant for a selection of speciality Greek and international dishes (surcharge applies).