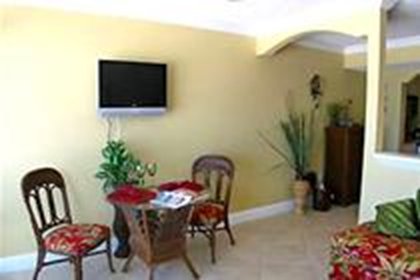 Hotel Overview
The Hotel Barefoot Beach Hotel in Madeira Beach is one of the most attractive hotels on the beach. Fabulous views can be enjoyed from the beachfront rooms and this area of the beaches features some of the most pristine sand from St. Pete to Clearwater. It is not uncommon to see dolphins in the sea, playing and feeding just offshore.
Luxuries and standard hotel amenities include an outdoor swimming pool, gift shops onsite, library, barbecue grills, pool sun loungers, Wi-Fi, safe deposit box at the front desk, laundry facilities, library, parking plus more.
The friendly staff at the 24 hour front desk are multilingual are more than happy to assist with tour arrangements and provide information about the area and nearby attractions.

*Certain amenities may be payable locally.*
*Official Star Rating: 2**

**Please note prices do not include local tax which is payable direct to the hotel.**

##Location
The hotel is 500 metres from John's Pass, a quaint turn-of-the-century fishing village, and Pinellas County's number one tourist attraction. Over one hundred merchants inhabit the village with unique retail shopping, a variety of restaurants, the local fishing fleet, cruise lines, boat rentals, parasailing and jet skiing. Other nearby attractions includes the Sunken Gardens at St. Petersburg, the Clearwater Marine Aquarium, and Busch Gardens in Tampa.

##Accomodation
There are 43 guest rooms, split between four floors, all of which are soundproof and have independent air-conditioning and heating. Further room amenities include; balcony, ceiling fan, clock radio, tea and coffee making facilities, complimentary toiletries and a hair dryer.
Additionally, the hotel also offers guests cookware, dishware, utensils, iron with ironing board, microwave, refrigerator, sofa bed, phone with voicemail and Wi-Fi.

##Eating and Drinking
The rooms have kitchen facilities and there are restaurants aplenty up and down the Gulf Boulevard from Clearwater to Treasure Island. Additionally the hotel is near to many of the area's cafés, bars and restaurants.

##Swimming Pools
The hotel has a swimming pool.