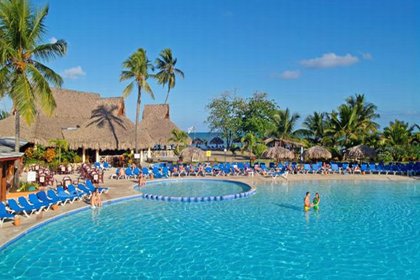 Hotel Overview
The Hotel Bahia Principe San Juan enjoys a great oceanfront location, in the north of the Dominican Republic, set on its private 1.5 km ?Bahia Principe? beach. The 941 room hotel welcomes singles through to family groups, with an All Inclusive package, and has a range of excellent facilities for all to enjoy. The guest rooms are set over a large area of landscaped gardens and tropical vegetation, providing separate areas for fun, and for relaxation. The resort has its own shopping complex in addition to a number of pools, Spa, gym, and so much more, which means there really is plenty for everyone to enjoy. The Hotel Bahia Principe San Juan will replace your normal routine with a fabulous holiday experience.

Getting to the hotel: 1 hour drive to Puerto Plata Airport -
Local Tips: Nearby towns of Rio San Juan (10 km), Cabarete (45 km), and Sosua (55 km) offer more lively attractions.
Rates are exclusive to European Union passport holders only.