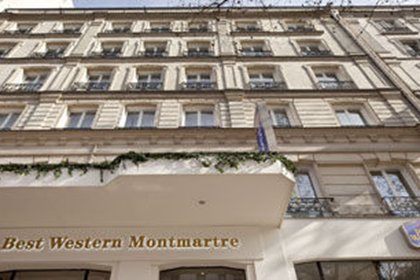 Hotel Overview
The hotel Best Western Montmartre is ideally located in the heart of Montmartre, 50 metres from the foot of Sacre Coeur, on a lively street full of shops, Chateau Rouge station is about a minute away, The hotel's convenient location makes it the ideal point for you to interfere with the life of the most popular and most typical district of Paris from its famous cabaret Moulin Rouge.The breakfast room is located on the lower ground floor, and, like the rest of the hotel, it is charming and tastefully decorated were client can enjoy their cold buffet breakfast.It is a 6-storey building, built in a traditional Parisian style.Lobby is medium in size and very bright with natural daylight leading to a very stylish lounge with white leather sofa and modern decoration and furnished to a very good standard.This fully renovated property is a 3-star hotel considered a very good first property. Well-served by public transport, it is convenient for the traveller who seeks to discover all the famous sights in Paris for a reasonable price (02/10 RC).
Important information:
Please note as of 1st March 2015, the government has implemented a new city tax as follows: € 1.65 PER PERSON PER NIGHT for stays in 3 star hotels
This is to be paid by the guests to the hotel directly upon check in or check out.