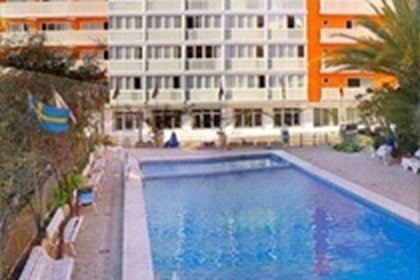 Hotel Overview
Situated on the gorgeous Costa Blanca in Benidorm, the Atenea Hotel is a modern complex offering comfortable and affordable accommodation. Set in beautiful and well-kept gardens, filled with palm trees, it is a very relaxing and enjoyable place to stay. Here you will be well-catered for, with a range of good facilities that will ensure you have a pleasant stay, including a lovely freshwater pool, pool tables, a range of entertainment and a children's playground.

##Accomodation
The rooms are stylishly decorated, comfortable and fully furnished with a full bathroom, air-conditioning, satellite TV, telephone, hairdryer and either balcony or terrace.

##Eating and Drinking
Options of half-board, full-board and all-inclusive accommodation are available. All meals are served in a buffet style, where there is a large choice of cuisine to suit all tastes, in the hotels lovely restaurant. Lighter meals and drinks are available from the lounge bar.

##Swimming Pools
The hotel has a freshwater pool, located across the road from the main building and surrounded by loungers, parasols, tables and chairs and benches.