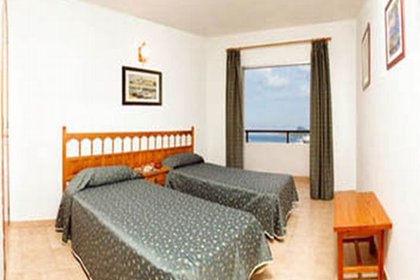 Hotel Overview
The Arcomar Apartments are situated in San Antonio Bay overlooking the beaches and crystal-clear waters of the island paradise of Ibiza. This is a terrific hotel for couples and families featuring 24 one-bedroom apartments with modern amenities and surrounded by extensive gardens. Guests to the Arcomar Apartments can relax on marvellous beaches and explore countless tourist attractions and facilities such as shops, restaurants, pubs, and discos. For an affordable holiday in a priceless location, the family-run Arcomar Apartments fit like a glove!
 
Getting to the hotel: Ibiza Airport is 22 km from the Arcomar Apartments.
 
With the location of this accommodation Shuttle Transfers will drop the guests at a drop off point near-by. If you have walking problems or disabilities we recommend a private taxi transfer.
Please note: The official rating for the Arcomar Apartments is 1key. FACILITIES:Food, drink and entertainment: On-site bar-restaurant serving a wide selection of breakfasts and dinners.
 
Sports, games and activities: Large swimming pool (and a separate one for children) set in gardens and surrounded by an ample terrace, TV room, billiard table and arcade games, car/ scooter/ bicycle hire, small gym, WIFI in all apartments, Bar/Kiosk and chill out at the pool terrace, VIP area at the restaurant with cocktails and long drinks and barbecue on terrace.
 
Additional: 24-hour reception, souvenir shop, baby-sitting (on request), Internet access, laundry service, garden, parking and luggage room. Please note that there is no lift in this property.