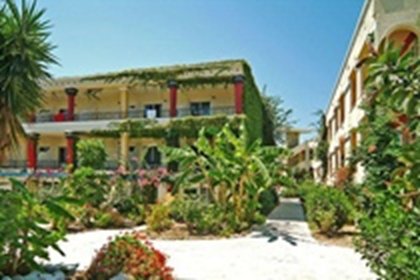 Hotel Overview
Hotel Apollon is a 4 star hotel, ideally situated a mere one kilometre from the centre of Kos Town in the area of Lambi and only a short 200 metre walk from the beautiful beach of Nea Alikarnassos, giving visitors the perfect holiday accommodation by being away from the hustle and bustle of Kos Town, yet only a couple of minutes ride or a short stroll away from it.

Set within beautiful surroundings of luxurious lush green gardens complete with an exotic pond, and boasting a unique architecture based on the famous Palace of Knossos, this charming hotel provides an ideal base to relax and enjoy your stay in between trips to the many sights and attractions nearby. Guests will be ensured a comfortable stay in one of the 160 spacious guest rooms, while the friendly staff will be happy to help with any assistance you might need, and you will find this hotel offers a wide selection of facilities and services that will help ensure you are always relaxed and entertained. When not at the nearby beach you could take a refreshing dip in the outdoor pool, help yourself unwind in the jacuzzi or simply take a break from the sun in the comfort of the air conditioned lounge with TV. Alternatively there are a number of activities at the Apollon Hotel that will help keep you entertained, including a tennis court, billiards, a games room and for younger guests there is also a children's playground. Guests can also take advantage of the high-speed internet access available in the public areas (charge applies) and for any additional assistance the 24-hour reception is there to help, along with arranging useful services such as car/bike/scooter rental, safe deposit boxes and tour information to help you make the most of your stay in the area.

##Location
The island of Kos is a great place to go if you are looking for plenty of water sports, especially windsurfing with plenty of chances to try on offer at the beaches, along with diving centres so you can even go out on scuba diving excursions and lessons for a memorable experience. Kos is the 3rd largest island of the Greek islands and along with Rhodes is one of the more popular choices for tourists and holidays. The island's town is Kos Town with a mixture of Venetian, Ottoman and modern architecture makes for interesting days out should you choose to explore its many shops, cafés and restaurants. The island also offers several historical and fascinating sites that are well worth a visit with ancient castles and monuments such as the Roman Odeon coliseum and the Nerantzia Castle.

##Accomodation
All the very comfortable and spacious rooms are available as singles, doubles and triples, and provide a bath / shower, private WC, telephone radio and veranda / balcony. You will find all the rooms are kept in immaculate condition as one would expect from a 4 star quality hotel and the staff is always at hand to make sure your stay is as pleasant as possible.

##Eating and Drinking
The Apollon Hotel features a restaurant where you can sample delicious local cuisine and for a range of refreshments or a cool drink there is also the main bar in the lounge or the snack bar located by the pool.
For guests arriving later than these hours, an extension for half an hour will be granted in their favour.
Guests arriving later than 21:30 can have their dinner upon departure day, and also, the all-inclusive basis will be extended till their departure hour from the hotel.


**ALL-INCLUSIVE**

MEALS:

Buffet breakfast, Apollon Restaurant: 07:30 - 10:00
Buffet lunch, Apollon Restaurant: 12:30 - 14:00
Afternoon tea, Apollon Bar: 16:00 - 17:00
Buffet dinner, Apollon Restaurant: 19:00 - 21:00
Snacks, Apollon Bar: 11:00 - 19:00

DRINKS:

Guests can enjoy a range of locally produced soft and alcoholic drinks from 10:00 until 23:00 including wine, beer, rum, gin, vodka, tequila, brandy

##Swimming Pools
The hotel features a large outdoor swimming pool and also a jacuzzi, providing the perfect place to make the most of the sun during your stay or just unwind at the end of the day.