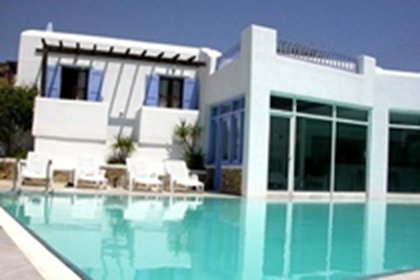 Hotel Overview
The Anastasios-Sevasti is a beautiful 3* hotel with fantastic views overlooking the Aegean Sea and Mykonos Town. Its proximity to the town centre and tranquil setting make this a very attractive option for your relaxing, Greek holiday. The hotel offers a range of great amenities, including a lovely swimming pool, well-equipped gym and TV lounge where you can cool down and enjoy a drink.

If you wish to venture out of the hotel's well-kept grounds, Mykonos Town, just a few minutes' walk away, is considered one of Greece's most glamorous holiday destinations. The centre is a hive of activity, with plenty of bars, restaurants, cafés, shops and art galleries all among quaint backstreets and pretty architecture. The closest beach to the hotel is 600m away, where you can enjoy a spot of sunbathing. The main bus stop is also close by, meaning that the whole island is within easy reach.

Mykonos is a luxurious destination and the Anastasios-Sevasti offers affordable, attractive and comfortable accommodation within easy reach of everything you could wish for. For a perfect beach holiday in Greece, book today!

##Accomodation
The air-conditioned rooms are well equipped with full bathroom, satellite TV, mini-bar, hairdryer, telephone, radio, safe and a balcony or terrace.

##Eating and Drinking
There is a pool-bar and snack bar serving a wide range of snacks, alcoholic and soft drinks. Breakfast is served in a buffet up until noon.

##Swimming Pools
The hotel has a swimming pool surrounded by loungers, parasols, tables and chairs and brilliant views of Mykonos Town.