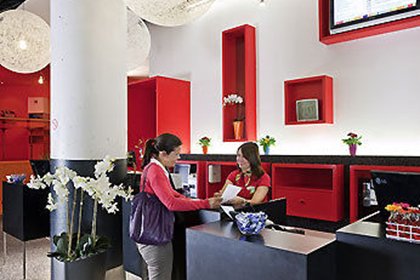 Hotel Overview
The hotel is in central Paris, 15 kms (9 miles) away from Orly airport and 25 kms (15 miles) away from Roissy airport. The Bercy train station is next to the hotel, and the Gare de Lyon train station is 10 minutes? walk (1 stop by metro). The metro station is 100 meters away from the hotel. It takes you 10 minutes to reach the hearth of Paris: department stores, Louvre museum and the Opera. The hotel is located near the Bercy Arena, overlooking a quiet park. It is 5 minutes' walk from the lively district ?Bercy village?.
This is a 3-star hotel, considered a superior tourist class property. It is also well equipped for seminars. (1208FP). It has 361 rooms, half of it with bathtub. Up to 155 twin bedded rooms. Rooms specially equipped for disabled persons are available on request only
3 kms to city centre, 22 kms to the airport (paris-charles de gaulle airport), 15 kms to the airport (paris-orly international airport), 2 minute walk to the nearest metro station (bercy), 1 km to the nearest station (gare de lyon), 1 minute walk to the nearest bus stop, 6 km to the nearest fair site (porte de versailles).
Large sized lobby, Earliest check-in at 14:00, 3 lifts, Porterage from 7:00 to 20:30, Room Service from 6:30 to 10:30, 8 floors, Coach parking, Disabled facilities.
Air conditioning, Television, Satellite television, Hairdryer, Voltage 220v.
The hotel bar is closed for renovation from 23rd Aug 2013 until 08th Sept 2013.