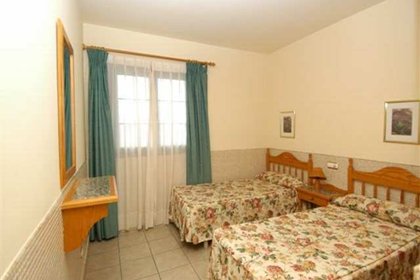 Hotel Overview
The largest and liveliest resort on the island of lanzarote is Puerto del Carmen,and the Acuario Sol apartments are ideally set in the centre with esay access to the beach and entertainment.Located 200 metres from the beaches of Playa Blanca and Playa Grande and the main promenade of Avenida de la Playas with a range osf shops,bars and restaurants.There are 85 self-catering 1 and 2-bed apartments wich are well-equipped and furnished in keeping with the affordable nature of the resort,set around the pools and sun areas.The Acuario Sol apartments are good value for money in which to enjoy a fun and lively holiday in the sun.Getting to the hotel: 7 km from the airpot-Local Tips:To explore the capital,Arrecife,is only a trip of 14 km


Getting to the hotel: 7 km to the airport -
Local Tips: To explore the capital, Arrecife, is only a trip of 14 km.
FACILITIES:An affordable holiday in well-equipped apartments in a good location.
Food, drink and entertainment: Poolside snack bar.
Sport, games and activities: 3 swimming pools with sun areas, garden and loungers.
For the kids: 2 swimming pools have children's sections.
Additional: Reception services, housekeeping, air conditioning (extra charge), tourism advice, service for car, bike and small electrical appliances.