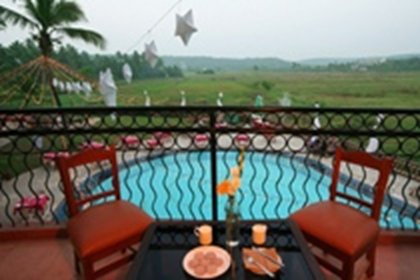 Hotel Overview
Overlooking the beach in the peaceful resort of Betalbatim, A La Goa Hotel is the perfect destination for those who want to relax and unwind in beautiful Goa. With plenty of facilities and a fantastic location amongst beautiful coconut groves, A La Goa Hotel offers everything you need to experience a truly memorable holiday.

A small, family-run hotel, A La Goa Hotel has been carefully designed to provide guests with a 'home from home' experience in one of Goa's most stunning locations. The rooms and suites are centred around an outdoor swimming pool with views of the coconut grove and beach, the perfect place to start your day with a dip or unwind after a day at the beach. The hotel also boasts a fantastic restaurant serving both local and international cuisine, a dedicated vegetarian kitchen and a bar serving alcoholic drinks. Guests can relax with an ayurvedic treatment from the hotel's therapist, or take advantage of the concierge service which will organise and book a variety of activities from sightseeing tours to cruises

##Location
A La Goa Hotel is situated in the village of Betalbatim just a short stroll from the beautiful beach. Less developed then many of Goa's beaches, it is the perfect place for relaxing in the sun and enjoying some peace and quiet. 15 minutes walk away is the resort of Colva which boasts one of the world's longest beaches as well as a good range of shops, restaurants and bars. A La Goa Hotel is also perfectly placed for exploring some of Goa's top attractions, including its famous flea markets, natural attractions and excellent diving spots.

##Accomodation
Each of the 36 rooms and suites are individually furnished to a high standard and boast en-suite bathrooms, air conditioning, satellite TV and mini bar. Each room also boasts a private balcony or terrace with either sea or lake views.

##Eating and Drinking
There are two restaurants on site serving both local and international cuisine as well as a bar serving alcoholic drinks.

##Swimming Pools
The hotel boasts an outdoor swimming pool with sun terrace.