Book Family Holidays In Benidorm Here through UlookUbook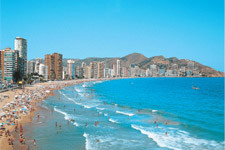 Spain has always been popular with families and the Benidorm is no exception. You will find the resort of Benidorm catering for families with the water parks.
Family hotels and apartments feature swimming pools with purpose built areas for children, kiddies clubs and play areas. Specially trained reps will look after your children so you can go and enjoy activities of your own.
Benidorm Family Holiday
Most restaurants in Benidorm feature childrens menu with choices of Spanish, European and English foods, whilst in the main resorts you will discover those McDonalds happy meals!
You can book your family holiday through Ulookubook.com by speaking to an experienced travel advisor, who can advise where is best to stay for your specific needs.