All Inclusive Holidays In Bulgaria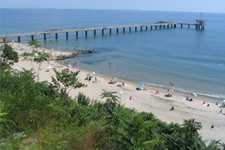 Bulgaria offers the perfect beach break and to be there on an All Inclusive board basis completes your holiday. We can offer All Inclusive properties in all the main resorts, Sunny Beach, Golden Sands, Albena, Nessebur and Sveti Konstantin.
Years gone by, Bulgaria was traditionally a cheap destination in terms of cost of living but more recently prices of meals, drinks and snacks have increased quite rapidly making an All Inclusive holiday to Bulgaria a wise choice. Various hotels will include kids clubs and other entertainment, with the golden sandy beaches on the Black Sea coast just a short walk away.
You can book your all inclusive holiday to Bulgaria through UlookUbook.
Hotels:
All Inclusive Holidays In Albena
All Inclusive Holidays In Elenite
All Inclusive Holidays In Golden Sands
All Inclusive Holidays In Nessebar
All Inclusive Holidays In Sunny Beach
All Inclusive Holidays In St Constantine