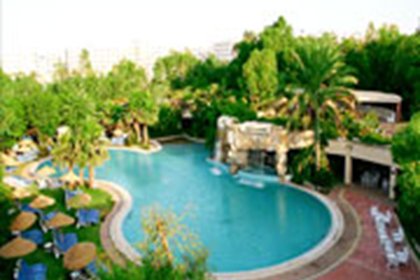 Hotel Overview
Tunisia Lodge is in the heart of Yasmine Hammamet with its famous Marina and Medina. Guests can check out the wide choice of hotel facilities, look round the extensive gardens filled with a scent of jasmine, or explore the lovely town of Hammamet with its fortress and an Oriental charm all of its own. The hotel is just 450 m from the beach, one hour from Tunis and Monastir airports and only 10 km to the Yasmine and Citrus Golf courses.

Breakfast buffet (Hannibal restaurant: 06:30-09:30)
Late breakfast buffet (Wonder bar: 09:30-11:00)
Lunch buffet (Hannibal restaurant: 12:30-14:30)
Dinner buffet (Hannibal restaurant: 19:30-21:30)
Snacks (Milanese restaurant: 12:30-16:00)
Snacks (Beach bar: 11:00-18:00)*
Afternoon tea (Wonder bar: 16:00-18:00)
Drinks (Bars: 09:30-23:00)

* From June till October.






Please note that childcare is offered on request and with extra charge.