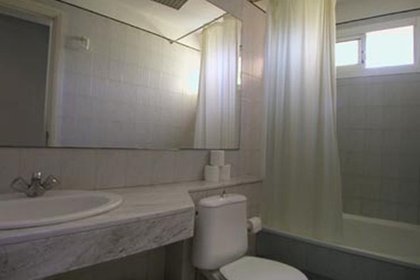 Hotel Overview
Tisalaya Park is located in the Campo International area of Maspalomas, in the south of Gran Canaria. The complex is set amidst surrounding tropical gardens and offers an ideal location for guests to relax and enjoy their holiday with local attractions and amenities within close proximity. There are 84 apartments that offer comfortable accommodation and facilities.
 
Getting to the hotel: Tislaya Park is approximately 30 kms from Gran Canaria Airport (LPA).
 
Local tips: The main beach is 3 km from the complex but there is a courtesy bus to and from the beach. There are many local attractions to see during your stay at Tislaya Park, such as; Sioux City, Acuarium Cat, camel safari, jeep safari, horse riding, helicopter rides, Crocodile Park, Loro Park and yellow submarine rides. There is also a supermarket, local shops as well as bars and restaurants nearby.
Please note a refundable damage deposit of 100 Euros must be paid upon arrival, this will be refunded if there is no damage to the apartment. This deposit applies to guest staying between the following dates 01.05.14 until 31.10.14.
Official Rating : 1 Star FACILITIES:Food, drink and entertainment: The main restaurant serves traditional Spanish and international cuisine. The apartments have kitchenettes where you can prepare your own meals when it suits you.
 
Sports, games and activities: 2 swimming pools, sauna, football court and pool tables. There are plenty of sports facilities nearby, including an 18 hole golf course.
 
For the kids: Children's heated swimming pool and playground.
 
Additional: laundry service, meeting/celebration hall, tour desk, car rental and wireless internet. There is usually a 24 hour reception at the property but on occasions, the operational coverage may be as follows: 09:00 – 14:00 hours, then 16:00 – 21:00 hours.