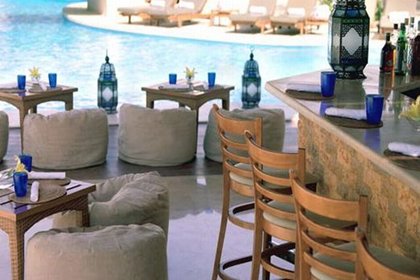 Hotel Overview
A five star, all-inclusive resort set in large, manicured gardens, the Monte Carlo Sharm Resort and Spa provides a luxurious base for any stay in Sharm el Sheikh. Looking out to the coral reef that attracts so many visitors to this region of Egypt every year, and with panoramic views of Tiran Island, the resort is just a 15 minute drive from the popular tourist hotspot of Naama Bay and is only 20 minutes from Sharm el Sheikh International Airport.

** FREE WIFI:   Booking Dates 29 Apr '14 to 31 Oct '15, Stay Dates Stays between 01 Nov '14 and 31 Oct '15 only = FREE UNLIMITED WIFI IN ALL PUBLIC AREAS & GUEST BEDROOMS FOR ALL HOTEL GUESTS. ** FACILITIES:Offering an Ultra all-inclusive 24-hours package, guests at the Monte Carlo Sharm Resort and Spa can access food and drink whatever time of day or night they choose. There's a choice of restaurants, bars and lounges to enjoy and a children's menu is also available. Children are kept entertained by the Kids Club (ages 5-12 years) and sports including volleyball, billiards (charged extra) and tennis (charged extra) are available. The resort has a spa centre and gym, with sauna and Jacuzzi, and it's own dive centre. There's also a choice of swimming pools and lazy river. The resort also offers a laundry service, free parking, business centre and conference facilities.
Additional: 24 hour reception, housekeeping, air conditioned public spaces, room service, in house bookshop, jewelers, souvenir shop, town car/limo hire, Diving/PADI school, meeting rooms, currency exchange, laundry service, beauty/hair salon, parking. SPECIAL OFFERS:Guests staying between 01 Aug 2012 and 31 Oct 2013 will receive a complimentary supervised Children's Club 09:00 - 17:00 daily for children aged 4-11 years. Children under 4 must be accompanied by an adult
 
Guests booking from the 10th August 2012 until the 31st October 2012 receive:
 
20% discount on Beverages prices.30% discount on spa treatments from 09:00 hrs till 15:00 hrs.Free intro Dive for 15 minutes.