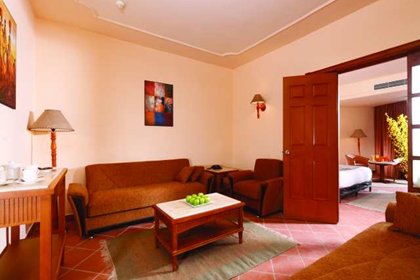 Hotel Overview
Situated on the Sinai Peninsula, Sharm El Sheikh is a popular destination all year round. In the summer months families and couples escape to the North African country for something a little different to European countries. The Red Sea is also a popular winter sun destination with many people leaving the UK to find warmer shores. The Sea Garden Resort is an exceptional hotel in the trendy Nabq bay area. A short stroll from the hotel are the popular white sandy beaches, which are lined with coral reefs and an array of marine life. It is also close to the city centre of Na'ama Bay where you can find locally produced goods, food, drink and a lively nightlife.
Please note: Rates and conditions are not valid for Egyptian and Middle Eastern passport holders. FACILITIES:The Sea Gardens Sharm is proud to offer buffet style dining in the hotels main restaurant, however guests also have the opportunity to dine in the three sister hotels in the area where smart casual attire is required for dinner. For something lighter the pool bar is open 24 hours for snacks and drinks, whilst the Lobby bar is open from 9am until midnight and serves drinks and pastries throughout the day.
If you stay at the Sea Gardens Sharm you will benefit from being able to use a pool exclusive for adults, a hairdresser, a beauty salon and a separate heated pool kid's pool. The hotel now also offers all-day kids club packed with fun activities for all ages. Guests also have a great opportunity to use the facilities at the three sister hotels in the surrounding area, which includes a diving centre and health club all at an extra charge.