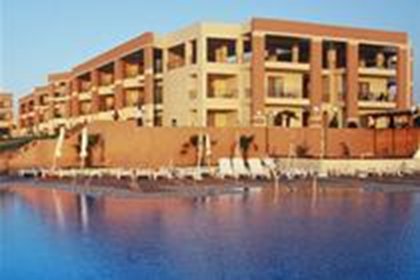 Hotel Overview
The Portes Palace Hotel is situated in the picturesque village of Nea Potidea, at the entrance of the Kassandra peninsula, in Halkidiki. The hotel is the ideal choice for a holiday in Greece as it is right on the beach, surrounded by green valleys and offers a superb view of the deep blue sea and the countryside.

The Hotel Portes Palace has 164 elegantly furnished rooms as well as a wide range of recreational and leisure facilities, such as a tennis court, a sauna and steam bath, a gym and swimming pools for all ages. All hotel rooms are air-conditioned and include en-suite facilities, a fridge, television, safe and a balcony or terrace.

In addition, younger visitors have a playground and a kids club to enjoy, there are water sports nearby and the hotel has a mini market, entertainment and a restaurant. For poolside refreshments you will also find a convenient pool bar onsite.

##Accomodation
All have - bathroom/shower - WC – television – safe – air conditioning – fridge – telephone – safe – balcony/terrace - (certain amenities may be payable locally)

##Eating and Drinking
The hotel has an indoor and outdoor restaurant serving both traditional Greek and international cuisine. Throughout the day you can also enjoy coffee, refreshments, fresh juices, drinks and exotic cocktails at the cafe, the bar and the pool bar.

##Swimming Pools
The hotel has a outdoor swimming pool and a separate pool for children. Spacious terraces surround the outdoor pool, and there is also a heated indoor pool at the Portes Palace.