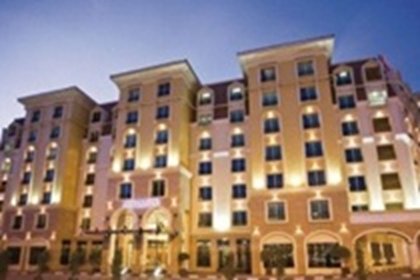 Hotel Overview
Located in the centre of Dubai, within the historic and culturally diverse Deira district, the Moevenpick Deira is ideally suited for both business and leisure guests. It lies just 10 minutes from the airport and close to the city centre, with some of the major points of interest in the city such as the Deira City Center Shopping Mall and Gold Souk all within walking distance.

This modern and business friendly 5-star hotel provides guests with every comfort they need for a relaxing stay in the city, with a luxurious range of comfortable and rooms and a host of excellent facilities that cater for both business and leisure. For guests wanting to unwind or keep active there is a health and fitness centre onsite featuring steam rooms and a fully-equipped gym along with the hotel's rooftop outdoor pool to enjoy. The excellent business facilities at the hotel include fully-equipped conference and small meeting rooms, along with a business centre offering all the essential services such as fax/photocopying, email and high-speed internet. The hotel is also an ideal place for hosting important larger events whether they are corporate or celebrations such as weddings and birthdays, with plenty of exhibit space and banquet facilities, the hotel can provide event catering to help ensure everything goes as planned. Additional services include free parking available onsite and all guests at the hotel can benefit from the Wi-Fi access provided throughout the entire property. The hotel also offers a complimentary shuttle service with an area shuttle and one that can take you to the nearby shopping centre to help you explore the city and for any additional assistance during your stay the hotel has a 24-hour front desk and can provide tour/ticket assistance.

##Location
Dubai is an impressive and modern city, the 2nd largest after Abu Dhabi in the United Arab Emirates, which attracts many tourists from all over the world and is often referred to as the shopping capital of the Middle East. The city has countless shops, boutique stores and over 70 shopping malls including the 7th largest one in the world where most shops and outlets consider friendly negotiation of prices a way of life.
The city also has many famous and impressive landmarks such as the Al Fahidi Fort, built in 1799 and one of the oldest standing buildings in the city to the impressive modern architecture of buildings like the Dubai World Trade Centre and the Deira Clock Tower are both important landmarks within the city.
There are pleasant green areas to enjoy too with a number of large parks as well as great family entertainment with amusement and water parks and you can always visit the famous Jumeirah Beach resort with its fine sands, blue seas, water sports and many restaurants and other attractions to enjoy.

##Accomodation
This impressive hotel features a total of 216 luxurious guest rooms, with a wide choice of accommodation types including superior, deluxe and executive double rooms as well as a selection of spacious suites. All of the rooms are en suite and come with comfortable twin or king size beds, complimented by a host of modern amenities including: air conditioning/climate control – satellite/cable TV – wireless/wired internet (surcharge) – minibar – coffee/tea maker – telephone – desk – clock/radio – in-room safe – shower/bath – complimentary toiletries and bathroom accessories.

##Eating and Drinking
The main restaurant at the hotel is "Jigsaw" open for breakfast, lunch and dinner. It serves a wide choice of international cuisine as well as creatively themed buffets for plenty of delicious dining experiences.

For a great alternative there is also the Wok In & Bar, with a contemporary take on Asian fast food providing a great selection of healthy and tasty dishes.

Guests looking to relax in comfort can do so at the Decadence, the hotel's lounge lobby tea room and gourmet shop. Here you can enjoy a wide selection of teas, coffees as well as a variety of tempting light snacks and melt-in-your-mouth pastries.

##Swimming Pools
The hotel has an outdoor pool on the roof of the building where you can enjoy the best of the sun and wonderful views over the city.