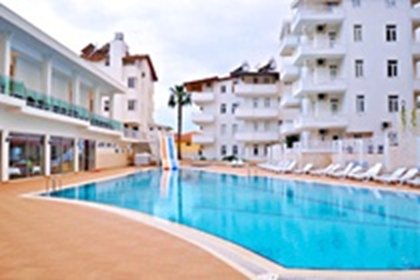 Hotel Overview
AVAILABLE MAY TO OCTOBER - The Mervesun Hotel is 400 metres from the shops, bars and beach in Side. Side has a village atmosphere with narrow streets and an old harbour area. It is almost 3 miles from the property to ancient Side and 5 from Manavgat.

##Location
Side has a good selection of bars, restaurants and shops in the town and on the waterfront. There is also has a small sandy cove in the town centre and 2 sandy beaches either side of the peninsula.

##Accomodation
All have * bathroom/shower * WC * telephone * TV * fridge * safe * balcony/terrace * air conditioning * kitchen * (certain amenities may be payable locally)

##Eating and Drinking
The property has an indoor and an outdoor restaurant and a bar. The restaurant is one of the most popular steakhouse`s in Side.

##Swimming Pools
The aparthotel has a swimming pool with a section for children.