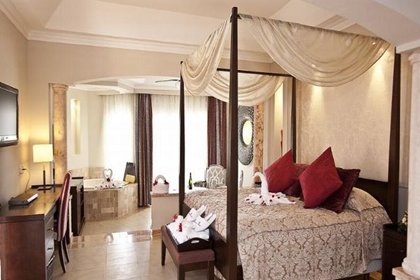 Hotel Overview
The Majestic Elegance Hotel Punta Cana is an exclusive resort on a two mile beachfront in Punta Cana in the Dominican Republic. The hotel manages to instil both a feeling of remoteness and ultimate luxury. This fabulous hotel offers 597 spacious suites with ultra modern amenities and an unlimited-luxury standard that has so many activities and opportunities to be pampered you will never want to leave! Guests to the all-inclusive Majestic Elegance Hotel Punta Cana are surrounded by soft white sand, turquoise waters, adventurous attractions all the while being totally indulged by the warm and friendly staff. If you are looking for an unforgettable vacation, with gourmet dining, breathtaking views and the ultimate in luxury, the Majestic Elegance Hotel Punta Cana is a holiday paradise you have to see to believe!
 
Getting to the hotel: Punta Cana Airport is 30 km from the Majestic Elegance Hotel Punta Cana.
 
Local Tips: One of the best Golf Courses in Punta Cana is the Golf Punta Blanca, situated next to the Majestic All Inclusive Resorts and designed by the famous South African champion Nick Price.
Rates are exclusive to UK passport holders only. FACILITIES:The facilities at the All-Inclusive Majestic Elegance Hotel Punta Cana are of the highest standard with dazzlingly luxurious accommodation and ultra modern amenities offering everything you need for a fun and relaxing holiday.
 
Food, drink and entertainment: 24 Hour all inclusive includes a choice of six restaurants and nine bars. Choose from Italian, Brazilian, Asian, American, Mexican and other styles of cuisine. Premium International and local beverages flow from a multitude of bars. There is an amphitheatre with evening shows, disco, theme nights and animation activities. Live piano at the Limited Gourmand Restaurant for adults only.
Please note: Some restaurants required a dress code.
 
Sports, games and activities: 400 meter long swimming pool 13 with 2 integrated Jacuzzis, numerous swim-up bars, kids pools, a state of the art spa (extra charge), a lazy river that meanders throughout the resort, beautiful private beach area with water sports. Facilities include tennis courts, fitness centre, arcade centre, mini golf, climbing tower, Billiards, beach volleyball and beach soccer, ping pong, table games, bicycles, daily animation, and a vast Casino just 2 minutes walk away at the Majestic Colonial Hotel. There is a supervised Kids Club for children as well as Nintendo's for children at the Majestic Colonial.
Golf at the Majestic Elegance. Guests at the hotel receive 1 free Green Fee (minimum 5 nights stay), 2 Green Fees for Elegance Club guests at the Punta Blanca Golf Course (300 m from the hotel).
 
Additional: 24-hour reception and concierge service, currency exchange, full service business centre, wireless Internet and computer rental, exhibit space, 24-hour security, wedding facilities, event catering, laundry/dry cleaning, complimentary newspapers in lobby, library, limo or Town Car service available, 24 hour medical assistance available, and complementary parking. There is also a top of the line convention centre with meeting space for up to 600 persons complete with individual lighting, wireless internet, audio controls, digital display boards and more. SPECIAL OFFERS:Honeymoon Bonus 2013
Majestic Resorts are please to offer all Newlyweds special romantic features, the perfect complement to a honeymoon vacation.
1 Romantic breakfast in your suite per stay.
1 Romantic dinner at the Beach restaurant per stay.
Exotic fruit platter upon arrival.
1 Bottle of champagne upon arrival.
Free upgrade to the next available room (subject to hotel availability).
Early check-in & Late check-out.
Welcome banner in your suite.
10% discount at the Spa. Souvenir photograph.
Valid until 31/12/2013. Guests must have married within 1 month of arrival and present a copy of their wedding certificate at check-in.