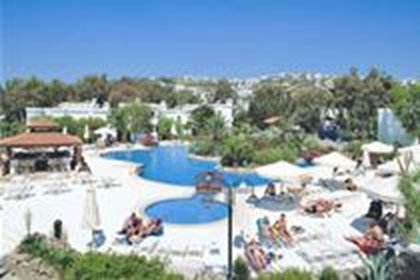 Hotel Overview
The Magnific Hotel enjoys a beach front location in Gumbet approximately 1.5 miles from Bodrum. This lovely, long beach is a mix of sand and shingle and there are plenty of water sports on offer. The centre of Gumbet, just a minute or two walk from the Magnific, has plenty of shops, bars and restaurants and a vibrant nightlife scene.

Please note that the transfer time from Izmir Airport is 3 hours and 30 minutes.

##Location
Gumbet offers a combination of relaxing days on the beach followed by a varied and interesting nightlife with plenty of bars and restaurants. The beach's cooling breeze, gently shelving sands and shallow water ensure it is a popular spot. A trip to Bodrum and its castle, on a dolmus (local bus), is a great way to see some Turkish history and culture.

##Accomodation
All have * bathroom/shower * WC * TV * telephone * air conditioning * hairdryer * (certain amenities may be payable locally)

##Eating and Drinking
The hotel has a popular beach front bar and restaurant.

**All Inclusive**

BREAKFAST : Main Restaurant, Open Buffet: 07:30-10:00.
LATE BREAKFAST: Main Restaurant, Continnetal Breakfast: 10:00-11:00
LUNCH: Main Restaurant, Open Buffet: 12:30-14:00
SNACKS: SNACK BAR: 12:30-17:00
COFFEE-TEA BREAK: COFFEE SHOP: 17:00-18:00
DINNER: Main Restaurant: 19:30-21:30
LOCAL ALCOHOLIC/NON-ALCOHOLIC DRINKS: 10-00-24.00
ICE CREAM (from 12.30 pm to 14.00 pm and 19.30 pm to 21.30 pm)
TURKISH PANCAKES (from 13.00 pm To 17.00 pm)
COFFEE, TEA & CAKES (from 17 pm to 18.00 pm)
MIDNIGHT SOUP (from 23.45 pm to 00.30 am.)
Magnifico Bar extra charge

*Minimum 7 nights staying guests can get totally 2 times free dinner in our 3 a la carte restaurants by reservation until 17:00. Drinks will be extra.

KEBAB HOUSE: Special Turkish and Europan Cuisine: 19:30-21:30.
MAMMA MIA RESTAURANT: Italian Aperatives: 19:30-21:30.
FISH RESTAURANT: Seafood: 19:30-21:30

Bars:

POOL BAR: All incl. local soft and alcoholic beverages: 10:00-24:00
SOHO BAR: All drinks are are extra: 10:00-24:00

Also included:
Animation
TV hall
Billards
Table Tennis
Internet Connection
Mini Golf
Turkish Bath Entry
Sauna
Fitness
Badminton
Aerobics

##Swimming Pools
The hotel has a swimming pool and is surrounded by extensive gardens.