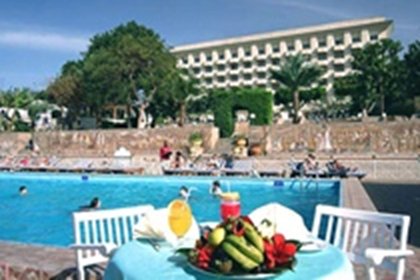 Hotel Overview
The Iberotel Luxor Hotel is centrally located in Luxor, on the banks of the Nile, and within a 10-minute walk of the Luxor Temple and 20 minutes from the Souk. The Karnak Temple is less than two miles away from the Iberotel Luxor. Set in attractive gardens full of exotic plants, the Iberotel Luxor Hotel overlooks the Nile and enjoys great views of the river, its West Bank and the Theben Hills from its pool and restaurant.

The hotel has its own shops, bars and restaurants as well as a swimming pool on a floating jetty. A daily programme of entertainment provides activities and regular evening performances including live music, dancing and folklore shows. The Luxor Iberotel Hotel's 185 spacious rooms provide modern comforts for both business and leisure travellers. All rooms are equipped with air-conditioning, en-suite facilities, satellite TV and a safe.

##Accomodation
All have - bathroom/shower - WC – satellite TV – telephone - safety deposit box – mini fridge – air conditioning – hairdryer – internet access (certain amenities may be payable locally)

##Eating and Drinking
Côte Jardin is the Iberotel's main restaurant serving breakfast, lunch and dinner buffets, with a terrace overlooking the Nile. The Oriental restaurant serves an à la carte dinner with a wide range of oriental specialties while Pizzeria Romance is an Italian restaurant serving an authentic selection of Mediterranean cuisine and an à la carte dinner. The Le Karkadeh Bar is an area where you can relax on the huge terrace and enjoy exotic drinks and appetising snacks. For those who like to relax poolside, a convenient pool bar also offers drinks and snacks.

**All Inclusive**

Arrival & Departure:

Welcome drink & fresh towels upon arrival.
Our All Inclusive guests are kindly requested to wear a plastic arm band as way of identification during their stay in the hotel.
All Inclusive privileges & benefits start upon arrival to the hotel.
All Inclusive privileges & benefits ends by Lunch time, on departure date.
Our All Inclusive guests are kindly requested to sign for all their food & beverages consumptions for the control purpose only.

Food & Beverage:

Breakfast, Lunch & Dinner in buffet style in the main restaurant
Afternoon teatime with selection of cake, cookies with tea & coffee in the Lobby Bar & terrace.
Local produced beverages served by glass; either soft or alcoholics drinks are served as from 10:30 am to 11:59 pm in our Lobby Bar & till closing time in our swimming pool.
Ice cream served by scope in the Lobby Bar & till closing time in the swimming pool
Light Lunch snacks served daily by the swimming pool & or Lobby Bar as from 12: Noon till 5: PM.

Added Value – additional services:

Free table tennis, darts, and baby foot, during the day time.
Free 30 minutes billiard once per room per stay

##Swimming Pools
The hotel has its own outdoor swimming pool with sunbeds and parasols available free of charge.