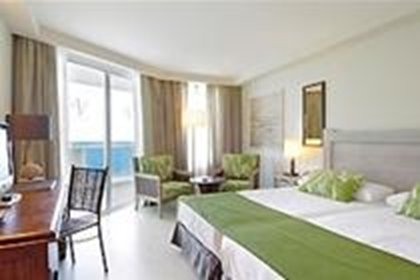 Hotel Overview
The Hotel Tenerife Golf is in Golf Del Sur, next to Playa San Blas. The property has it`s own shopping centre. It has rooms facing the sea, nicely furnished, with private bathrooms There are a wide range of bars and restaurants on site, and it is popular with the ex-patriot community.

##Location
The Hotel Tenerife Golf is situated within the Golf del Sur complex, and is only 300m from the stone beach. The hotel offers a high standard of service and a relaxed atmosphere.

##Accomodation
Twin rooms with sea view will have 2 or 3 beds (3rd bed may be a sofa bed)
Twin rooms with sea view: All have * balcony/terrace * bathroom * wc * satellite TV * air conditioning * minibar * telephone * internet * (certain amenities may be payable locally)

##Eating and Drinking
There is a restaurant with a full buffet for breakfast and dinner. The bar with outdoor terrace serves snacks, as well as cocktails and other drinks and there is also a beach bar. All Inclusive Light includes breakfast, lunch and dinner , local soft and alcoholic drinks from 10.00 - 22.00 Hrs. * NEW YEARS EVE GALA MEAL INCLUDED *

##Swimming Pools
There is an active swimming pool in the spa area and an outdoor swimming pool.