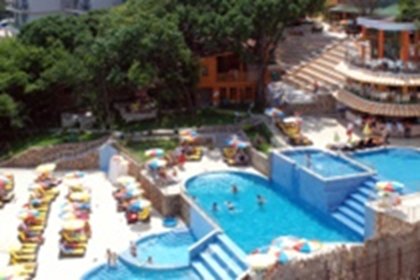 Hotel Overview
Situated in the pretty resort of Golden Sands and surrounded by the green forests of the natural park, the Hotel Excelsior makes for a picturesque and peaceful holiday, just 600m from the nearest sandy beach and the resort centre. The hotel received a complete renovation of its rooms and facilities not long ago in 2001 to help ensure that they are kept to a modern standard and features over 300 spacious rooms ideal for couples and families and many with sea views. The excellent facilities at the hotel include three outdoor swimming pools, tennis courts, sports ground and there is also a spa and wellness centre featuring a sauna, Jacuzzi and a range of beauty/massage treatments. Additionally guests staying at the hotel also have access to the facilities at the neighbouring sister hotel Sunrise which includes an internet corner and a heated indoor pool.
The Hotel Excelsior also features an excellent animation team that arranges outdoor and indoor activities for adults as well as children and for young children especially there is the PrimaKids Club helping to ensure there is never a dull moment for them. There are plenty of opportunities for sports and activities too with table tennis, volleyball, basketball, football and darts playable at the hotel or on the beach with equipment included in the cost of your stay. You will find all the great facilities and service at the hotel are complimented by the professional and friendly staff who are always on hand to help with any request you might have and there is even a free shuttle bus that can take you straight to the beach so you can spend more time enjoying the sun. For any guests wishing to stay on business there is also a conference room ideal for holding those important meeting or events and for any additional services you will find the reception/front desk is open 24 hours.

Additional amenities include Wi-Fi connectivity for those seeking to stay up-to-date with the latest news and there is a children's playground which keeps the little ones entertained. Dining options include two restaurants serving tasty local and international food and drink, plus there are also two bars offering an array of refreshing drinks for guests to recline with in the evening.

*Official Rating: 4**

##Location
The Golden Sands Resort is a place of many activities and entertainment whether it is during the day or night. During the days you can relax on the fabulous sandy beaches the resort is well known for, or if you are feeling a bit more adventurous then there are plenty of opportunities to try out some thrilling water sports that are popular in the area.

Away from the beaches there is plenty of choice ranging from golf courses, diving, leisure/recreation centres offering sports like bowling as well as jeep safaris and paintballing. If you are looking to explore the area there are plenty of excursions available that allow you to visit some of the fascinating and historic nearby locations such as the ancient village of Nessebur or explore the beautiful sights of the nearby Zlatni Piasaci nature park.

For families with children there is an impressive aqua park nearby which is bound to provide exciting days out for everyone and there are plenty of chances for fun activities such as watching live shows, pony rides, bouncy castles and arcade games that help to ensure there will never be a dull moment. Plenty of shops ranging from large supermarkets to boutiques and local souvenir shops can be found not far from the hotel, in the resort's centre and variety of restaurants and local bars provide all sorts of cuisine for you to try ranging from local specialties to more international dishes.

During the night the resort comes alive with a colourful nightlife where you can dance the night away at one of the modern clubs, enjoy drinks at one of the beach bars or even try your hand at the casino entertainment.

##Accomodation
The hotel offers a total of 310 rooms, which include standard and 'comfort' double rooms along luxurious superior rooms and spacious suites. All the rooms feature modern amenities that include air conditioning, satellite TV, direct line telephone, fridge/minibar, balcony and a complete bathroom with shower and WC.
The comfort double rooms are more spacious and can accommodate up to 2 additional beds and the suites have even more space with separate living and bedroom areas along with a kitchen area and can accommodate up to 5 people.

##Eating and Drinking
Guests staying at the hotel can do so an all-inclusive basis which along with use of much of the facilities also includes all meals at the main buffet restaurants, a dinner at the a-la-carte restaurant and drinks/snacks at the bars.

The hotel has 2 main restaurants including the pleasant barbeque restaurant "The Old Tree", and one of the restaurants has a terrace for enjoying delicious meals outside under the warmth of the sun. The restaurants are open for breakfast, lunch and dinner and there is a special themed buffet provided once a week for a taste of something different.

There is also a comfortable lobby bar serving a range of alcoholic beverages and provides a welcome place to sit down with friends or family, and by the pool you can find a snack bar that offers much needed refreshing drinks and snacks while you are relaxing by the pool.

##Swimming Pools
There are great opportunities to splash about or relax by the pool at the hotel with 3 outdoor pools that includes separate children's sections. Two of the pools also feature water slides for extra fun as well as a Jacuzzi and the pools are surrounded by plenty of loungers and parasols to help you soak up the sun.
You can also enjoy swimming all year round with the indoor pool at the nearby Hotel Sunrise.